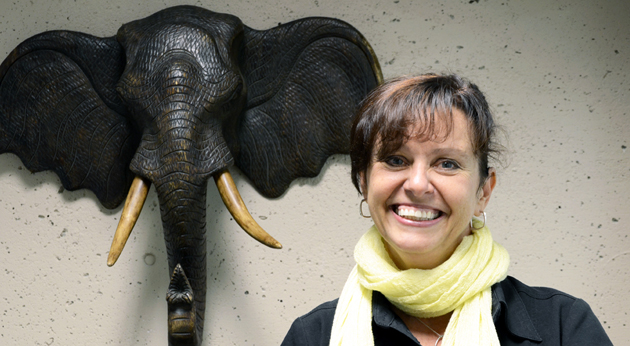 Yes, there is an Elephant in the Room…room A273 that is. Kim White, the new Human Rights and Conflict Resolution Advisor has a rather large (wooden) Elephant's head on her office wall.  Synchronicity played its hand when this treasure was recently recovered from the recycling room as a reminder of a recent trip to Africa. Kim immediately thought this would be an interesting and striking addition to her new office at UFV and mounted the piece in her new office resulting in an "Elephant in the Room".
How fitting for the office where in exploring conflicts we often talk about everything but the "elephant in the room".  In conflict, we tend to talk about everything except the "elephant in the room" either because we are unwilling or unable to address the underlying issue at the heart of our differences. According to the urban dictionary, the elephant is "a very large issue that everyone is acutely aware of, perhaps politically incorrect, or perhaps a political hot potato, it's something that no one wants to touch with a ten foot pole." Hmmm, more metaphors…
It is when we "name" the elephant that the conflict typically shifts, softens and drops to a deeper level of awareness and engagement for each party. What has been named can be dealt with and potentially resolved.  In homage to this process of  "discussing the undiscussable" Kim has creatively devised an opportunity for you to "truly" name the elephant…on her wall!
This majestic animal needs a name.  We invite you to consider the names of other great elephants such as Jumbo, the great elephant of P.T. Barnum's or Dumbo, the adorable flying elephant, each name brings to mind a personal image. Take a look at this carved image and tap into your best creative resources. What would you name this elephant?  And why? There will be a prize for the best name and rational.  Come on…name the elephant in the room!
Send your submissions to kim.white@ufv.ca
Vote Now!