Dr. Teresa Kisilevich to join UFV as Dean of Applied and Technical Studies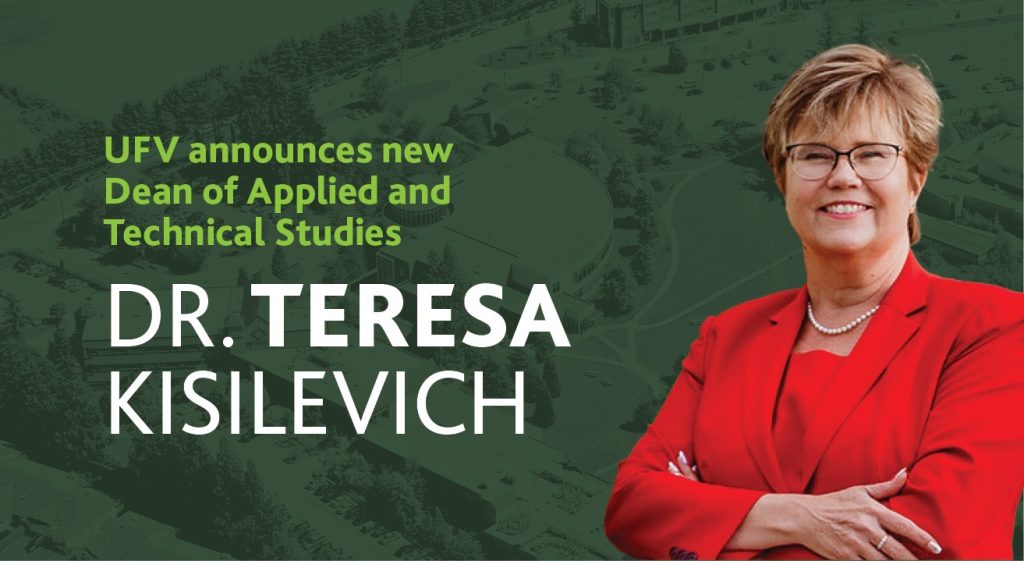 Dr. Teresa Kisilevich will be the next Dean for the Faculty of Applied and Technical Studies at the University of the Fraser Valley, effective August 1, 2023. Kisilevich was most recently the Associate Dean of Trades and Apprenticeship at Okanagan College, where she served in several instructional and administrative roles since 1999. She brings with her extensive knowledge and experience of trades programming across BC and has developed strong industry partnerships that have further enhanced academic programming opportunities. Kisilevich has demonstrated a strong commitment to Indigenization and EDI within the trades and has actively implemented pathways for students who have historically been marginalized. She will be joining UFV as a tenured associate professor with a faculty appointment in the Adult Education department.
Kisilevich started her career as an elementary and high school teacher. She entered the post-secondary sector in 1999, teaching office administration, English as a second language, and continuing studies courses. She moved into an administrative role as chair of the Office Administration program at Okanagan College and was also provincial chair of the Applied Business Technology/Office Administration Articulation Group. After a six-month secondment as the Associate Dean of the Okanagan School of Business, she served as Associate Dean of Trades and Apprenticeship for seven years.
"I have a passion for vocational education," Kisilevich notes. "One of the beautiful things about post-secondary education is that it offers opportunities for everyone. By including applied and technical programs in our portfolio, we can meet the educational goals and needs of many. UFV serves its communities well by offering a full breadth of programming so that students do not have to leave to get an education."
She also loves witnessing the transformational power of education.
"I have seen many times how people have changed their lives — and the lives of their families — through education. In all my roles, I have had a passion for supporting students who may have had a rough go earlier in life and seeing them succeed, I also deeply appreciate and enjoy learning about fields new to me. I have gone on that journey with business and trades, and now I will have the chance to learn more about physics and engineering as they are part of the Faculty of Applied and Technical Studies. My role is to support the subject-matter experts. The professors whom I have met so far are all passionate about their work, and I really respect those people who have mastered knowledge in a certain area and are now sharing it."
Kisilevich recently completed her doctorate in education (EdD) at Western University. Her thesis focused on building a culture of equity, diversity, inclusion, and social justice at a community college.
"It is vitally important to me that we expand our pool of who we approach and encourage to work in the trades. If we only look at who has done the work before and recruit through those channels, we will get the same results. My doctorate focused on how to change policy at institutions to make it viable for EDI-related groups to find a way into programs. This is important from both an economic and social perspective."
Believing that building and maintaining relationships through transparency and authentic communication are key to her leadership style, Kisilevich looks forward to meeting all the staff and students of the Faculty of Applied and Technical Studies as well as forging strong industry connections.
Teresa and her husband Brent (and their friendly golden retriever, Caramel) are relocating to Chilliwack in time for her to take up her duties on August 1, 2023. They are also parents to three now-adult children, as well as grandparents to three grandchildren.