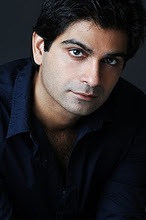 UFV's writer-in-residence this semester is Anosh Irani.
Irani is the author of three novels, as well as a successful playwright of three plays, all three of which have been produced by the  Vancouver Arts Club.  He's recently returned from India where he's working on a film about the plight of small farmers caught in India's hideous, inescapable debt crisis. He's keen to get involved on campus and to meet and work with aspiring writers.
Irani is well spoken, socially engaged, exceptionally bright, and well travelled, according to UFV English professor Trevor Carolan, who invites the public and the UFV community to meet him on Thurs, Jan 26 at University House.
"The event will include a short public interview, and there'll be an opportunity for audience members to present their questions to Anosh.  Ought to be a fine opportunity for an encounter with a writer who's really making things happen," says Carolan.
Irani is on campus Mondays and Thursdays this term, 12:30–5:30 pm and consultations with him about one's own personal writing are free. His office is Abby D-3009, just down from our English Dept. assistant Lesley Poh.  His email is  Anosh.Irani@ufv.ca
Thurs, Jan 26
University House, noon-1 pm
Refreshments provided.