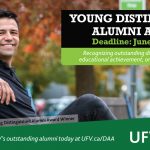 Seeking nominations for the 2021 UFV Alumni Association's Distinguished and Young Distinguished Alumni Awards.
We all know our alumni are awesome – here's your chance to tell them. Nominate an outstanding alum in recognition of their achievements in one or more key areas. Visit our website for more information on how to nominate, and to read more about past recipients of these awards.
Nominations close June 30, 2021.
https://alumni.ufv.ca/awards/distinguished-alumni-awards/
For more information, contact Leona Oakman at leona.oakman@ufv.ca
06/30/2021