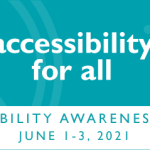 To promote and raise awareness for the National Accessibility Week, May 31 – June 4, 2021, the Teaching and Learning Centre (TLC) and the Centre for Accessibility Services (CAS) are hosting a three-day online event featuring keynote presenters, workshops, a student panel, and other relevant sessions to showcase and learn about accessibility.
All sessions will be online via zoom. Please review the agenda from June 1–June 3, 2021.
Please register by clicking the link below the agenda.
June 1-3
8:45 am-2 pm
Online event – Zoom
http://events.ufv.ca/tlc/events/accessibility-awareness-event-june-1-3-2021/
For more information, contact Leah Lyon at tlcevents@ufv.ca
06/03/2021