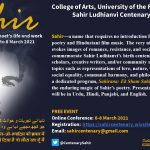 Sahir — a name that requires no introduction for those who love Urdu poetry and Hindustani film music. The very utterance of his name evokes images of romance, resistance, and social justice. To commemorate Sahir Ludhianvi's birth centenary, presentations by scholars, creative writers, and/or community members will examine topics such as representations of love, nature, women, social critique, social equality, communal harmony, and philosophy of life. In addition, a dedicated program, Sahirana: Ek Sham Sahir Ke Naam, pays tribute to the enduring magic of Sahir's poetry. Presentations and conversations will be in Urdu, Hindi, Punjabi, and English.
Join us to celebrate Sahir's life, poetry, and film songs.
FREE EVENT. No Registration Fee.
March 6-8, 2021
4-9 pm
Online (Register via Conference Website)
https://sahircentenary.wixsite.com/my-site
For more information, contact Prabhjot Parmar at Prabhjot.Parmar@ufv.ca
02/09/2021