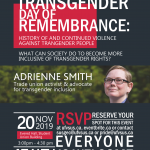 The Faculty and Staff Association, and the Student Union Society will be co-hosting Adrienne Smith, a trade union activist & advocate for transgender inclusion, to speak about:
The history and continued violence against transgender people, and what society can do to become more inclusive of transgender rights.
Please join us for this FREE event. To help us determine seating requirements, please sign up at: https://www.eventbrite.ca/e/transgender-day-of-remembrance-tickets-75341007983
*Bring your student or employee ID at the door.
Wed, Nov 20
3-4:30 pm
Evered Hall, Building S (room S1116), Abbotsford camps
https://www.facebook.com/events/2567223816672519/
For more information, contact Melissa Naman at humanrights@ufv-fsa.ca
11/20/2019