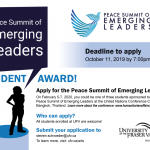 Apply to be one of three UFV students sponsored to attend the Peace Summit of Emerging Leaders in Bangkok, Thailand, February 5-7, 2020.
Deadline to apply: Oct 11
Learn more about the conference: www.humanitarianaffairs.org
Why apply?
Represent UFV and Canada as an outstanding young leader.
The purpose of this conference is to empower young people and
facilitate youth who are passionate about positive social change.
This opportunity will equip you with the skills and tools to pave the
way for social change. As well, the opportunity will enable
you to make connections internationally and further
develop your experiential learning.
How to apply
Send us a statement of interest explaining how this conference will
benefit you. Please submit the following:
– Statement of Interest (max. 250 words, double spaced)
– Curriculum Vitae (i.e., academic resume)
*Please include your name, email, student ID number & phone number.
Who can apply?
All students enrolled at UFV are welcome!
Submit your application to: steven.schroeder@ufv.ca
To learn more, visit: www.ufv.ca/arts
Sponsored by:
UFV President's Office
College of Arts
Vice President of Students
https://ufv.ca/machforms/view.php?id=628591
For more information, contact Aimee Fauteux at aimee.fauteux@ufv.ca
10/15/2019