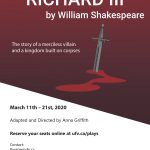 Adapted and Directed by Anna Griffith
March 11–21, 2020
A kingdom, a horse, and lots of blood. King Richard III.
Richard III raises questions about political corruption and coercion as we follow the story of Richard's violent rise to power. Shakespeare offers us a portrait of the ultimate villain who is simultaneously charming and ruthless. The play also asks us to think about how characters around Richard are complicit in his bloody maneuvers onto the throne, and may offer us insight on the contemporary political moment.
Anna Griffith is an interdisciplinary performer and director exploring a multimedia version of Shakespeare's ultimate villain and the people who helped him get there.
March 11-21, 2020
–
Abbotsford campus performance studio, Building D, 105 33844 King Road
https://www.ufv.ca/plays/shows/
For more information, contact Jennifer Chew at jennifer.chew@ufv.ca
03/22/2020