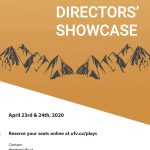 Emerging Directors' Showcase
April 23 -24, 2020
The Emerging Directors' Showcase is the final project presented by UFV Theatre's fourth-year directing class. The showcase provides a chance for students to apply everything they have learned in the course. Audiences can expect a wide range of performances, ranging from raunchy physical comedy to thought-provoking and disturbing drama, from movement-based devised work, to explorations of performance art.
Reserve your seats online at www.ufv.ca/plays
For more information, contact theatre@ufv.ca or call the box office at 604-795-2814.
April 23& 24, 2020
–
Abbotsford campus performance studio, D105
https://www.ufv.ca/plays/shows/
For more information, contact Jennifer Chew at theatre@ufv.ca
04/25/2020