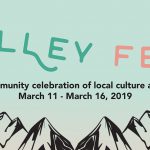 Valley Fest
A community celebration of local culture at UFV
March 11-March 16, 2019
Valley Fest 2019 is a celebration of local culture and community, held at the University of the Fraser Valley. Valley Fest is an exciting opportunity for UFV students, faculty, and staff to
engage with members of the Fraser Valley community in an exploration of the rich cultures, traditions, and educational opportunities of our region.
This one-week event, running from March 11 to March 16, 2019, will take place in various locations across the UFV Abbotsford campus from 9 am to 8 pm, featuring:
• Open classrooms
• UFV's Got Talent!
• Bhangra night
• Riverdale conference
• Valley Fest dinner and Finale
and many other activities
Bring your friends and family to share in the festivities!
For the events schedule: visit http://events.ufv.ca/
Contact: valleyfest@ufv.ca
Share Valley Fest on Facebook, Instagram and Twitter
#valleyfest
https://www.facebook.com/events/331386131052381/
For more information, contact Jennifer Chew at jennifer.chew@ufv.ca
03/17/2019