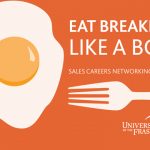 Don't miss your chance to meet high-profile employers who are looking to hire UFV students for well-paying careers in professional selling and service.
Come to the Sales Careers Networking Breakfast on Friday, Oct. 6
Evered Hall, Student Union Building, Abbotsford campus
Space is limited. Get your tickets before Oct 3 at ufv.ca/network-breakfast
Meet recruiters, ask questions, and make valuable sales career connections.
Why would anyone want to go?
– 11 large/established/national employers looking to hire for entry-level part time and full-time positions, including one of Abbotsford's largest employers: Prospera Credit Union.
– full buffet breakfast
– prize draws throughout the event, including a $400 pressure washer
– an opportunity to learn how to network and/or add to their network
– face-to-face conversations with recruiting decision makers
Student tickets are just $15! Full breakfast included.
Register online with your credit card or pay cash at the front desk of the School of Business in C building.
SPECIAL BONUS: Now offering table discount. Get 8 tickets for $72 (Save $6 per ticket).
The focus of the event is sales careers, but students are welcome to talk to recruiters about any other positions available.
http://events.ufv.ca/events/sales-careers-networking-breakfast/
For more information, contact Mark Breedveld at mark.breedveld@ufv.ca
10/07/2017