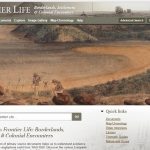 Frontier Life is a digital resource designed to enrich teaching and research, examining settlement, existence and interactions at the edge of the Anglophone world from 1650-1920. With a vast array of primary source material previously unavailable in digital form, this resource enables research into the many dynamics of frontier existence and its lasting influence across multiple regions. Primary sources from Canada include archives from the Glenbow Museum and the Hudson's Bay Company Archives Library, Archives of Manitoba.
This new database has been made available to Canadian educational institutions, thanks to the collaboration of Consortia Canada and 18 major academic libraries in Canada.
For more information, contact the UFV Library.
http://proxy.ufv.ca:2048/login?url=http://www.frontierlife.amdigital.co.uk/
For more information, contact Patti Wilson at patti.wilson@ufv.ca
09/23/2017