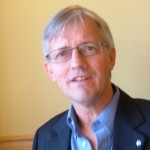 The provocative title of this talk refers to the attitude of some in our communities towards the work of environmentalists like John Vissers.
Vissers has lived in Abbotsford for the past 25 years. Currently he chairs the Abbotsford Environmental Advisory Committee, the Rail for the Valley lobby group, the Fraser Valley Conservancy, and Zero Waste B.C. He is also a board member with the Fraser Valley Watershed Coalition. He has been honoured with the Queen's Diamond Jubilee medal, Order of Abbotsford, United Way Community Mentor, and Rotary International's Paul Harris Fellow awards.
Abstract: "You Damn Commie Tree Hugger": The fate and future of environmental activism in a conservative city
Is environmental activism pointless, succumbing to overwhelming tides of sophisticated corporate green spin and public indifference? Techniques popular in the 20th century no longer persuade and science has taken a back seat to cynicism. We seem less and less capable of responding locally to the growing threats of catastrophic global climate change. This talk will discuss some local projects and challenges, raising questions about how and why we "act local, think global".
For more information, contact Pat Harrison at patrick.harrison@ufv.ca
11/27/2013