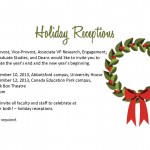 The Provost, Vice-Provost, Associate VP Research and Graduate Studies, and Deans would like to invite you to rejoice the year's end and the new year's beginning.
Tues, Dec 10, Abbotsford campus, University House
Thurs, Dec 12, Chilliwack campus at Canada Education Park, Black Box Theatre
2-4 pm
Come to one — or both! — holiday receptions.
No rsvp required
For more information, contact Janice Nagtegaal at janice.nagtegaal@ufv.ca
12/12/2013