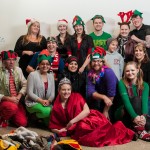 Being a student isn't easy, but it's even more of a challenge to be a student and a parent with unmet financial need – especially at Christmas. Every year, the Angel Tree program tries to make Christmas a little easier for our UFV families in need through generous donations from staff, students, and community members. Please go to our website for more information: http://www.ufv.ca/studentlife/student-assistance/angel-tree-program/ or email us at slevents@ufv.ca if you have any questions!
The Angel Tree program has become a part of the UFV Christmas season. Last year, with your support and generous donations from SaveOnFoods, we were able to provide gifts for 104 children and gift certificates for food for over 50 families!
UFV students with dependents under the age of 16 and unmet financial need had until Nov. 15 to apply for the program.
If you would like to donate to the Angel Tree program, thank you! There are a couple of ways to give. You can buy a gift for one of our Angel Tree children to open on Christmas morning, or you can make a monetary, tax-deductible donation directly to the program via the Advancement office.
To buy a Christmas gift, take an angel from our Angel Tree Christmas trees, which will be up in the Abbotsford and Chilliwack campuses on Mon, Nov 18. Each angel on the tree represents a child in need. Gifts must be delivered to the Student Life department by Wed, Nov 27.
If you would like to make a monetary donation, please watch your UFV mailbox for a donation form.
The Angel Tree program wouldn't be possible without support from our community. Please help us to make this a Christmas to remember for those who need it most!
For more information, contact Rachel Knudsen at slevents@ufv.ca
12/05/2013