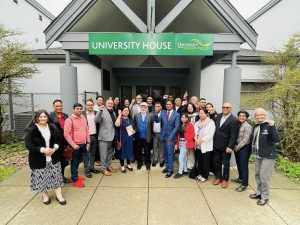 On April 26th, the SASI was honoured to observe and celebrate Equality Day as part of the 2023 Dr. Ambedkar International Symposium on Emancipation and Equality Day Vancouver. This was the 20th year for the week-long International Dalit Conference held in Vancouver since 2003. In May 2023, people collected at a forum for academics and community leaders to reflect on the progress that has been made as well as the challenges that still lie ahead in the fight against caste-based discrimination in Canada.
The Equality Day event at SASI provided an opportunity to discuss casteism on university campuses, both how it manifests in this setting and what can be done at the institutions to create change. Many shared difficult personal stories that illustrated caste-based discrimination students face at universities in BC and at UFV, though they often go unnoticed or ignored by the larger community.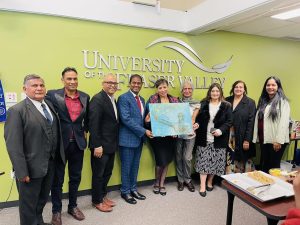 The Shri Guru Ravidass Sabha Ontario kindly gifted a fulsome collection of Dr. Ambedkar's writings and speeches to the UFV Library to share them with new audiences as they remain just as relevant today as when they were first written or recorded.
The symposium organizers also presented UFV with a portrait of Dr. Ambedkar that was painted by Indian-Canadian artist Raghavendra Rao K.V. The portrait will be displayed at the UFV Library in Abbotsford to honour Dr. Ambedkar's work of emancipation of the downtrodden and his messages.