To bring awareness to the realities of human trafficking, the SASI was invited to partner with Dr. Rita Dhungel of the UFV School of Social Work and Human Services (SWHS), PEARL, Ally Global Foundation, the Race and Antiracism Network (RAN), and the UFV Student Social Work Association (SSWA) to host an event that invited panellists for discussion on this critically important topic, followed by a film screening. Panellists for the event included UFV professor and researcher, Dr. Rita Dhungel, Nikki Routley from Ally Global, and Cindy Sommerfield from PEARL Life Renewal.
The panellist brought with them their knowledge on the topic of human trafficking and exploitation both globally, as well as within Canada. They discussed the gendered realities of human trafficking that sees a higher percentage of victims being women and young girls. They further spoke about how human trafficking can look different in different areas of the world, while also speaking about the greater need for resources that many organisations require in order to help victims.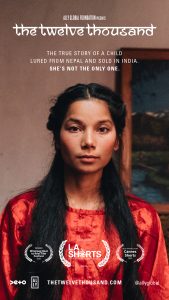 After the panel discussion there was a screening of the award-winning film, The Twelve Thousand  (referring to the number of children trafficked out of Nepal). The film depicts the story of Sona, a young girl from Nepal, who was abducted from her village and trafficked to India where she was forced to work in a brothel. The film tells the story in stages, highlighting the systematic work of the traffickers while also showing the amount of people involved in the crime.
The film was based on the true story of Sona, who, after three years of being trafficked, was rescued by Ally, and brought to a safe house where she was able to recover and heal. The end credits of the film describe how Sona wanted the telling of her story to bring awareness to the realities of human trafficking in the modern world and provide hope for those who are also survivors. The credits also note that during the time of the film's creation, Sona was studying to become a social worker in order to further help others who had faced traumas as she did.
The Twelve Thousand is an incredibly moving film. It shows the dark reality of human trafficking and exploitation in our world today, and Sona's courage is clearly evident. The film further illustrates the immense need for resources and safehouses which are essential to helping those who are being trafficked. Without such help, the fates of victims of human trafficking would be devastating. The story of Sona was heartbreaking and difficult to watch and witness, but it was a necessary one to tell.