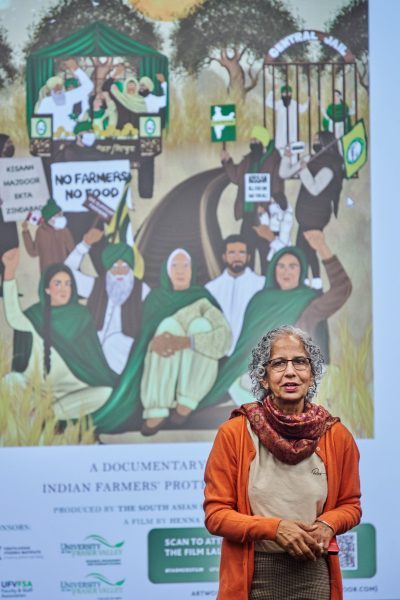 On October 1st, the South Asian Studies Institute hosted another very successful screening of Rails, Jails, & Trolleys, a documentary on the largest farmer's protest movement in partnership with Abbotsford Tourism as part of Taste of Abby Festival.
Rails, Jails and Trolleys documents history's largest farmers' protest and the Canadian diaspora's response to it. This ground-breaking documentary captures the electric ethos of a protest that received international attention and the resounding response by Canadians to the movement. A full year in the making the film tells the story of why and how the farmers' movement ignited a nation, and youth, women, and men from all over the world.
"The need to research and document the Canadian response to the movement that gained international attention was critically important for SASI. We were present as history was being made and documenting it for posterity was vitally important for us in the here and now and for future generations" commented Dr. Satwinder Kaur Bains
Director of the South Asian Studies Institute at the University of the Fraser Valley.
Craig Nichols, Executive Director Tourism Abbotsford stated that, "It was Tourism Abbotsford's pleasure to work closely with the South Asian Studies Institute at UFV in partnering with the screening of Rails, Jails, & Trolleys at their Taste of Abby event. The documentary was educational and informative and evoked an energized discussion after the showing about important farming and food security issues. Thank you to the South Asian Studies Institute and the panelists for a wonderful afternoon of learning and thoughtful discussions."
Close to 100 people attended the second screening of the film and expressed their interest to host more showings in the new year. "We are part of the story as farmers" said Santosh Powar who came to the film showing.
Directed by young filmmaker Ms. Henna Mann, student at York University and produced by the South Asian Studies Institute at the University of the Fraser Valley, this film is a "must see" in the bucket list of British Colombians for the year of 2022.
The panelists included Dr. Parm Bains, (President & CEO of Westberry Foods Inc), Dr. Inder Mann (Political Scientist),  and  Mr. Balraj Dhillon (Teacher in Burnaby School District); who answered the questions of the audience along with film director, Henna Mann.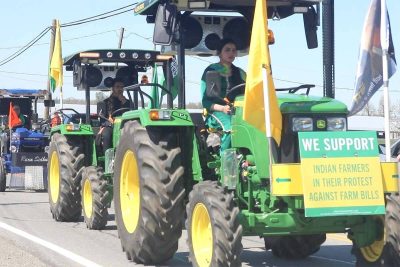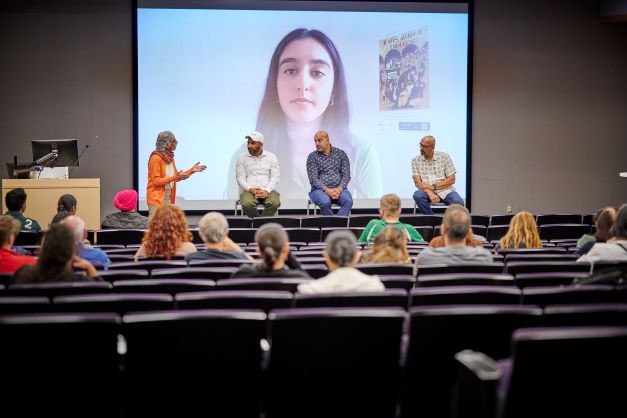 For any questions, please contact us at sasi@ufv.ca or call at 604-854-4547