After more than two years of no in-person exhibit launches, the SASI was pleased to host the latest exhibit at the Sikh Heritage Museum, National Historic Site, Gur Sikh Temple in Abbotsford. The exhibit, titled 'An Ocean of Peace' was originally displayed at the Anvil Centre by the New Westminster Museum and Archives in 2019.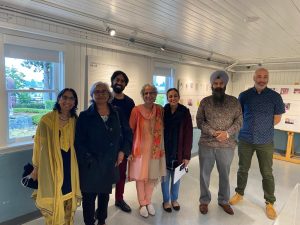 The exhibit, curated by Paneet Singh and Naveen Girn was a celebration of New Westminster's Sikh community, its presence for over 100 years, and the history of the Sukh Sagar Gurdwara.
Khalsa Diwan Society Abbotsford President Jatinder Singh provided a warm welcome followed by Naveen Girn, and New Westminster Cultural Manager Robert McCullough. Belle Puri, a long standing reporter with the CBC provided a keynote address sharing stories about her family's deep history in New Westminster, as well as stories about her mother, Nsibe Kaur, who was the first woman of South Asian descent to earn a high school degree in BC. You can learn more about Belle's family story by visiting the South Asian Canadian Digital Archive.
The exhibit will be available for viewing all year long from June 2022 – May 2023. The Sikh Heritage Museum is open seven days a week from 930am – 430pm.