The hemisphere of caste is a multi-layered, multi-fold inter-woven tapestry which we tuck away in a filthy suitcase trying not to open in public domains as it feels like a tumor under the skin. We project the conversation of caste as a tough topic to discuss which often ends up leading into heated discussions and sometimes, even into hate crimes.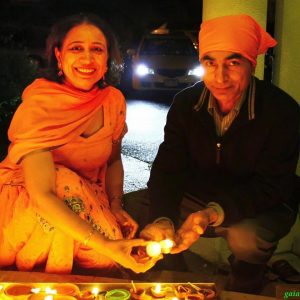 Caste is not a coffee table discussion, nor it is discussed at social gatherings, cultural celebrations or at our home gatherings when the threads of caste are obviously visible. This includes on the big screen, where in South Asian weddings Bhangi, Nai, Jheer, Bhaand, Chamaar, Suniyar, Dhobi and Darji (Cheembey) are continuously portrayed in their pre prescribed roles. Many times, these oppressed caste groups are not invited inside the house or the mandirs/ gurdwaras/masjids and on the wedding, reception tables to eat with the family members. There is a psychological hierarchy upheld for the Priest/Giani/ Imam who perform the religious ceremony of wedlock inside the shrines. Our conversational styles and body language while communicating with them tells it all.
The caste narrative came into existence in my personal life when I was growing up as a child in a village where my family and I were a religious-caste minority and seen as "Hindu- Non-jatt Sikh" or "Lale (me as Lali) family in a Jatt-Sikh dominated village. I was in grade 5 or 6 when I was bullied by Jatt Sikh girls almost daily during lunch time when they would chase me with yelling …"Lali….Lali….Lali"  and I would run in front of them in fear of being attacked.
One day I came home crying and asked my father, 'Who we are? What is the meaning of Lali?" He replied, "even though we belong to "Hindu-Arora" by caste but I don't believe in all this, that's why I don't put my caste besides my name." The next day when the jatt-Sikh girls started bullying me again, I said, "I am not Lali I am Arora." But I didn't know that rather that dispel the harm, countering the girls could be much more horrifying than  as they started throwing stones on me along with chanting slogans of 'Rodi…Rodi…Rodi' with even louder laughter. Rodi/Roda means a stone in Punjabi.
I cried again that day and didn't eat my dinner, eventually falling asleep while crying. The next day, I didn't go to school as I had a high fever and felt reluctant to go to school for the few days out of fear though I didn't tell my parents what  the reason was.
I went to the school after the weekend and I saw they were doing the same thing to another Majhabi (scheduled Caste) girls…chasing them and yelling the word "Choodhi…Choodhi…" with a few of them spitting on faces too. The scheduled caste girlsnever came back to school after that day as they were already excluded,  not allowed to sit with 'high' caste children, and had separate benches and teachers who also didn't treat them compassionately.
When they didn't come to the class for a week, I visited one of them at their house (located in a kuccha (mud) house) with a goat outside. I remember that the home hardly had five or six utensils in an open-door kitchen with cow-dung cake and a wood-fueled chullah. My friend Amro was making rotis and offered me roti to eat. We ate in the same plate, sometimes for fun feeding each other with our hand and giggles and hugs. I asked her, why didn't she come to school.. She didn't respond and kept looking down, but her mother said, "She will not go to school now…We Majhbis don't need to send our children to school as we need her to help us in the fields this harvest and after the harvest is her marriage." …I was shocked! "…After the harvest is her marriage!" For a moment I was thrilled to imagine that celebration of marriage means that Amro will wear shiny clothes with lipstick and bindi's and  jewelry, and in my heart of hearts I also wanted to get married soon to get all these beautiful gifts. But in the next moment I felt sad that she would not be coming to the school ever again after grade five and questioned "that's all  her education? In that moment, for the first time, I felt privileged to be born in a Hindu-Arora family where I didn't have to quit school after grade five.
Amro never came back to school because she was Majhbi, an untouchable and as a convention those days 'low'-caste girls didn't need to study at all or up to a maximum up to grade five so that her parents would find a boy for her in a city. She was seen as more 'eligible' because she could count money and read.
I came back home sad that evening that one of my best friends, Amro would not be coming to the school anymore, and asking myself who would save me from jatt girls when they bully me? Again, I didn't share the zest of the story with my parents and grand-parents and quietly went to my bed without eating dinner. No one knew I was developing a hidden pain and mental discomfort around this big elephant – CASTE. The whole concept of caste – Majhbis, Arora, Lali, Hindu, Sikh, Jatt-Sikh became a big wall between me as a child and society. There was a strong resistance to all this unreal world and I knew clearly that I didn't agree with this social structure.
These childhood memories got suppressed with time when nothing related happened during my college days and it got packed in a suitcase which I never opened again in my life and let it buried under the dust.
Caste was not a big deal in Canada, at least I didn't experience it ever, nor did our children face it in school.
Coincidently, one day, I came across a book to translate titled 'Us Pal' by eminent Punjabi Writer, Simran Dhaliwal. "Us Pal" translated  to "That Moment." "Us Pal" in Punjabi – reminded me of my childhood once again and it took me to the alleys and laneways of my village. Each story uncovered the detailed narratives of my timeline layer by layer and gave me that wakeup message that I need to re-open the suitcase of my preserved values, un-dust those fragile moments which I wished to re-live and correct myself walking again on those paths leading to those kuccha houses of my Majhabi friends, playing again the characters of household adults with hand-stitched dolls when we fought and burned the doll brides over caste, and child marriages, dowry and domestic violence, when my grandma asked me to take shower after she knew that I played with a "lower-caste" girl, Amro and few more of my Majhabi classmates or that I ate at that "Majhbi's" house in the same plate and hugged them. It was so painful to explain to grandma what is right and what is wrong at that age, that these are my best friends who love me more than the upper caste jatt girls. I would rather go to the bathroom to satisfy my grandma, put the tap on but not take a shower because I was not convinced that I need to take shower for the reason that they were "lower-caste – untouchables."
I would like to echo what SASI Director, Dr. Satwinder Kaur Bains has said in her personal reflection – The Reckoning of Caste in the Diaspora: "As an ancient civilization, caste has divided those of Indian heritage in a way that nothing else has because of its inherent psychological bias (since there is no biological evidence of difference), its circular and closed argument of ancestral damnation, its criminal patriarchal oppression, its social hierarchy through colourism, its built-in ostracization that follows one through to future generations, and its occupational stratification that assigns hereditary transmission of purity (as if was a right) and pollution (as if it was a disease)."
To end, I reflect on some music. Recently, as a radio host, when I invited the Founder Director of Chetna Foundation from Vancouver, Mr. Jai Birdi, and earlier reading the story of Anita Lal's family, shook me more intensely than my personal stories and raised tsunami within me when Mr. Bridi called after the show that it has happened for the first time in the history of South Asian Media in Canada, when someone played caste-specific song on the radio, when most of the songs which are played are Jatt-Specific or Bollywood songs. He was overflowing with joy and respect. Here are the Songs:
Raaj Baba Sahib Da | Full HD | Ginni Mahi | New Punjabi Songs 2018 | Jeet Records
https://www.youtube.com/watch?v=BZqAFfzub5A
Main Dhee Han Baba Saheb Di
https://www.youtube.com/watch?v=H5XzHJBNyoI
Dr. Kusum Soni, September 15, 2021