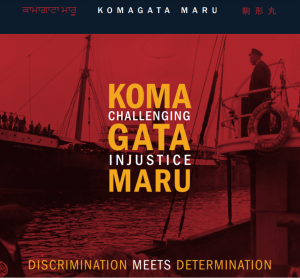 On April 14th  the South Asian Studies Institute launched a permanent outdoor exhibit and temporary indoor exhibit at the Sikh Heritage Museum located in the National Historic Site Gur Sikh Temple, Abbotsford BC. The exhibit, titled Komagata Maru: Discrimination Meets Determination pays homage to historic 1914 and to the power of determination to enact meaningful change by South Asian would-be immigrants with the threaded connections to ongoing legacies of racism. The exhibit is based on the original 2014 exhibit which was curated and designed by the Vancouver Maritime Museum to coincide with the centennial of the Komagata Maru incident.
The opening virtual launch featured reflections by descendants of the passengers of the Komagata Maru including Raj Toor and Sukhi Ghuman and poetry reading from author of Chanting Denied Shores Tariq Malik and a new poem by Kusum Soni.
The online event was very well attended, with the approximate 70 attendees including community members from across BC, the three levels of the Government and UFV faculty, staff and the students. The dignitaries who attended the event and shared their insights included Abbotsford Mayor Braun, Abbotsford MLA Mike De Jong, and Abbotsford MP Brad Vis.
The event titled "Komagata Maru: Challenging Injustice: Conversations for Yesterday, Today and Tomorrow" was a joint partnership between SASI and the Vancouver Maritime Museum.
The temporary exhibit inside the museum will be available for one year until March 2022 with the museum being open seven days a week from 9:30am – 4:30pm. The section of the exhibit installed permanently as an outdoor feature of the Sikh Heritage Museum is with funding support to SASI from the BC Arts Council. The SASI has also published a catalogue on the exhibit with financial support by Vancouver Heritage Foundation's Yosef Wosk Publication Fund.
For online tour of the exhibition please visit: https://www.southasiancanadianheritage.ca/komagata-maru-challenging-injustice/ and http://canadiansikhheritage.ca/exhibitions/
The video from the live launch can be viewed here: https://youtu.be/3A8xb2pdFAo