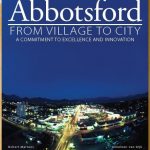 (Taken from Media Advisory from the MSA Museum Society)
MSA Museum Society launches book
Abbotsford, from Village to City: A Commitment to Excellence and Innovation.
Edited by local poet and historian Robert Martens and MSA Museum Society archivist Anneleen van Dijk, this new book highlights Abbotsford's remarkable growth and development in industry, health and community care, justice services, culture, and environmental consciousness. "It is inspirational to see so many people from such a wide range of backgrounds contributing to this project. This book represents Abbotsford's journey from a village to the City it is today" says van Dijk. With written contributions by more than forty local authors, most of whom were personally involved in the stories they tell, the result is a collection of essays that sparkle with intimacy and passion. "Abbotsford, From Village to City, provides a unique look into the many talented people and organizations in our community," said Abbotsford Mayor, Henry Braun. "When the Village of Abbotsford first formed in 1889, no one could have predicted where we would be today. This book reminds all of us that we live in a very unique and special City."
Years in development, the book was the idea of former librarian David Giesbrecht. Dorothy van der Ree, retired director of MSA Museum Society, guided the book through to its conclusion with the support of an extremely committed volunteer book committee. These are stories that need to be told. Topics explored include the origins and evolution of UFV, Community Services, and the Abbotsford Airshow, as well as the story of our city's populist resistance to the construction of the SE2 power plant in Sumas, WA.
The Centre for Indo-Canadian Studies contributed the chapter entitled: "Sustaining Echoes of the Past: Building a Future–100 Years of Indo-Canadian History." This chapter looks at the innovative, sustaining nature of Sikh migration to Abbotsford in the early 20th century as well as the creation of the first Punjabi-language private school (Dasmesh Punjabi School).
Copies of the book can be purchased by contacting:
MSA Museum Society
2313 Ware Street
Abbotsford, BC V2S 3C6
Phone: 604 853-0313