It was with great sadness that the CICS came to hear of the passing of two key, influential and gentle people: Dalip Singh Gill and Paul Singh Dhaliwal. In recognition of their amazing lives and achievements, below, you will see articles in their honour:
Dr. Dalip Singh Gill (1928-2015)
(Article courtesy of Mr. Gurmit Singh Tiwana and the Punjabi Patrika):
A Stalwart leaves Abbotsfordians morose, desolate and rudderless
Alas! Dr. Dalip Singh Gill is no more with us. His sudden departure has left the family in deep sorrow and grief. He breathed his last on the 6th April, Monday morning. One could hardly imagine, that whenever called to the podium in School or temple, the old -grown tortoise-pacing Dr. Dalip Singh Gill had by then, traversed along journey twice in his life and every time out-did the fastest running hare of life, reaching at the pinnacle in the field of education – the subject of his own choosing – both in India and Canada. A householder at an early age, starting as a Primary School teacher,  doing his triple Masters' degrees in Punjabi, Political Science and Education, he reached the Apex, retiring as District Education Officer, Gazetted Officer Class I.
Moving to Canada in 1985, performing  highly respected ,though humble duty of the Temple Priest, started a mini Punjabi School, called ' Dasmesh Punjabi School, in commemoration of the 10th Sikh Guru (Dasmesh Pita) Guru Gobind Singh. He was highly successful in bringing together –sometime guiding &leading a coterie of well-meaning, educated, selfless, sacrificing & benevolent families of the community—an awfully difficult task in a " Haumen/Ego' ridden community— to raise an educational institution , the first of its kind in the whole of the country & in the process of creating an institution of this magnitude – with 60 teachers and 750 students – he became an institution by himself. Thus a gateway to the learning of Sikh Religion, Culture and Punjabi language has been opened.
A great educationist and a superb administrator that he was, he was a multifaceted personality. As a person, I could say that he was the wisest person I have ever met  in my life. He was workaholic, highly sympathetic, amiable, amicable, jovial and loving personality. He listened more and talked less and that always to the point.
I feel honoured to claim him as one of my sincere friends. Many others might have the same claim on him. We talked a lot on telephone, discussed almost all aspects of life. He was a devout Gursikh and myself a staunch rationalist. Even then one would wonder, we carried on very well. He was highly tolerant of opposite views. He would mollify those views with his genuine and original approach.
A person is remembered because of his contributions to society. He becomes immortal through his deeds, through his legacy. Dr. Dalip Singh Gill has left a splendid legacy – an instrument through which we can keep our religion, culture and language alive for centuries to come. He was lucky to be rewarded in his life time, given to a few. At his retirement, he was accorded a Royal send off. The University of the Fraser Valley conferred on him the highest degree of learning i.e. an honorary 'Doctor of Philosophy.' He was also decorated with the Queen Jubilee Medal for the services to the city. The community should celebrate his life and take a queue from him to try to do all that humanity at large needs to be done.
-Gurmit Singh Tiwana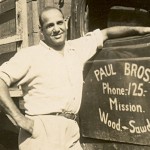 Paul Singh Dhaliwal (1914-2015)
(Taken from the Obituary of Paul Singh Dhaliwal)
Respected Centenarian Passes
Paul Singh Dhaliwal, a respected community member and pioneer of the Sikh community, peacefully passed away at his residence in Abbotsford surrounded by his family at the great age of 100 on Tuesday, January 20, 2015. Paul arrived in Canada from Chananwal, Punjab in 1932. He initially worked in lumber camps in B.C. In 1942, he established Mission Fuel Ltd., his own business to deliver sawdust, and later hauled lumber and logs. On his initial journey to Canada at the age of 18 and in the steps of his father, Paul studied wrestling at the Gamma School of Wrestling in Hong Kong and while managing his business, he continued to participate in amateur wrestling until 1945, when a promoter invited him to the professional arena. From 1945 to 1947, he enjoyed his professional status both in Canada and the United States. In 1947, due to his mother's illness, he returned to India, where he remained for three years and married Mohinder Kaur, whom he shared his life with. As a well-respected citizen, Paul was the recipient of the Order of Abbotsford, named the citizen of the year, recognized by the National Historic Gur Sikh Temple and the Khalsa Diwan Society. Predeceased by Mohinder Kaur, his wife of 62 years, Paul is survived by his six children, Vicky (Chris), Baljeet, Surindar, Kamala (Jack), Paul Jr. and Robin (Jim) and seven grandchildren, Erin, Dustin, Charissa, Jenna, Michelle, Nathan and Bradley. Paul will be remembered for his love and dedication to his family and friends, his warm and generous nature and for a fantastic sense of humour. One of his passions was to share life experiences by sitting at the kitchen table while having dinner and talking about his novel experiences.