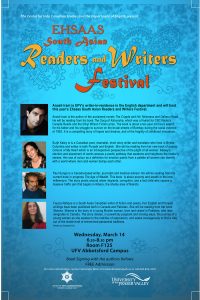 This years annual Ehsaas Readers & Writers Festival was celebrated on March 14. The Centre invited four acclaimed authors which included UFV's writer in residence Anosh Irani, Fauzia Rafique, Surjeet Kalsey and Paul Sunga to participate in the festival and to read from their works.  Author Anosh Irani read from his novel The Song of Kahunsha, followed by readings by Surjeet Kalsey from her new book of poems Colours of my Heart,Paul Sunga read from his upcoming book The Age of Wealth and Fauzia Rafique read from her book Skeena. All the authors were well received and members of the audience got a chance to meet the authors, buy signed books and participate in the discussion.
CICS invited UFV's Writer-in-Residence Anosh Irani for a book reading event on January 26 which was held in collaboration with the English department. Anosh read from his book the Dahanu Road and also talked about his experiences being a writer. He also gave advice to all the students to want to take up writing in the future.
In March, SAPNA hosted a chai time discussion topic: 'Spirituality in Modern Age' which was led by UFV Writer in Residence Anosh Irani. Anosh discussed the works of ancient Muslim poets like Kabir, Hafiz and Rumi. He read out their poems and asked participants what they thought about the messages and what his interpretation was. It was a very interesting discussion as everyone had their own views as to what the poems mean and should be interpreted and how today's youth understands the depth and meaning of spirituality discussed by these poets.