From the head of the class to the back of her horse, Natalie Alves' competitive streak knows no bounds.
The 15-time national champion equestrian had universities lining up with open arms following her 4.0 GPA at Mission's Heritage Park Secondary.
But Alves knows life, like horseback riding, is all about balance.
So she chose UFV's Graphic and Digital Design program (GDD).
"It embodies my passions of photography, art, and communication all at once and it's such a huge part of the equestrian industry. It combines all the things I love," she says.
"I want to feel accomplished on the academic side of my life because being accomplished as a rider has brought me a lot of joy."
Alves competes against other Arabian horses atop Shake It Up Baby (aka Stella). She beat riders spanning every equestrian breed and discipline throughout Canada to be crowned the 2014 Equine Canada Junior Equestrian of the Year and the Horse Council of BC's 2015 Junior Athlete of the Year – the first Arabian rider to claim that honour.
All while churning out beautiful designs under the guidance of UFV's GDD instructors.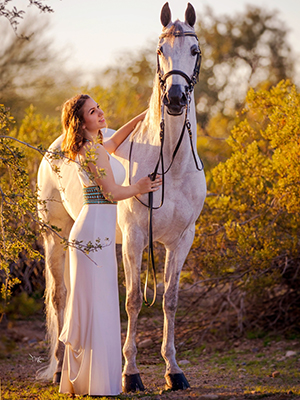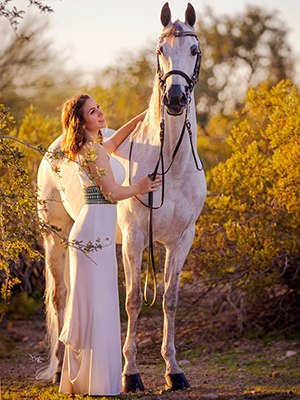 "She connected her personal interests and successes into creative outlets, and her work is really outstanding," says GDD department head Karin Jager.
"We find students are looking for ways to develop passions into something more meaningful – thinking more deeply about a particular problem and finding new ways to do things. Natalie's done that, and it's reflected in her strong work."
Hoisted onto her first horse when only three months old, Natalie was quite literally born into the equestrian world, but it hasn't all been easy.
Persistence was learned through her parents, Tony and Tamara, who built their own small equestrian facility in the quiet back hills of Mission.
"There's a lot of hard work and tears and sweat that went into her accomplishments," recalls mom, a local schoolteacher.
"She really wasn't ready to stop riding and competing with her horse, but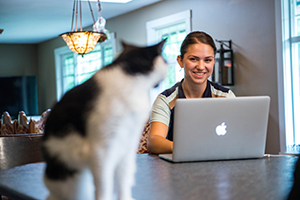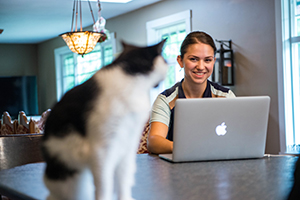 ultimately the decision came down to the calibre of instructors and opportunities here at UFV, including incredible scholarships and a technology voucher."
Alves' Hollister Entrance Scholarship alone consisted of a one-year tuition waiver plus $1,500.
"She never ever gives up. She's a very driven young lady."
Nearing the end of her GDD training, Natalie hopes to ply her trade in the design industry with a possible focus on environmental and social responsibility while continuing to pursue her equestrian passion.
"I'm just so proud of her accomplishments," says dad, the man who gave Natalie that first ride while strapped into a snuggly all those years ago.
"She just has her eyes on a goal and she's doing everything to pursue it."