Welcome to the new employees who joined us in October as well as some current employees that have moved into new positions. And congratulations to the temporary employees that have now become permanent! We are very excited to have you join the UFV team.
NEW EMPLOYEES TO UFV
Welcome to Karen Derksen, Coordinator, Practicum & Internship, SWHS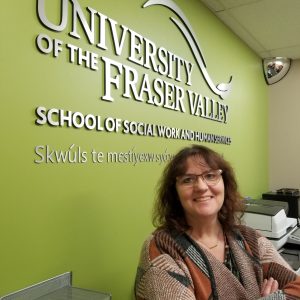 Hello, my name is Karen Derksen and I am the new Coordinator of Practicum and Internship for the School of Social Work and Human Services.
I come to UFV after many years of working with families in the Upper Fraser Valley, a career I began after obtaining my Social Services diploma here at UFV. The majority of those years were spent in a variety of roles at Chilliwack Community Services. When I began working as a Family Literacy Facilitator in 2016, I decided to return to university because I wanted to be in a better position to support my clients. So, back to UFV I came and enrolled in the Adult Education degree program. As a working mom, I took one course per semester. It was slow going until I learned about UFV's transfer agreement with VCC's Provincial Instructor diploma program. At VCC I was able to take courses between semesters. I graduated in June 2022 with a Workplace Education certificate, Integrated Learning Design certificate, TESL certificate, the VCC Provincial Instructor diploma, and a Bachelor of Arts in Adult Education all at the same time.
I was excited to come across a UFV job posting that perfectly combined the work I have done for so many years with my recently completed education. I took the chance and believe I have come full circle but in a new way. It is such a privilege to support Human Services students as they find their way on their own career path.
Away from work and school, I enjoy all season camping with my family, gardening, and exploring our local communities.
Ashraf Lalani, Director, Research Services & Industry Liaison
Christine Rennie,  Senior Budget Analyst
Zixuan Yuan, Analyst I, Service Desk
EMPLOYEES AWARDED PERMANENT POSITIONS AT UFV
Hoong Meng Lai, Associate Director, Projects and Portfolio Management
Lauren Chevrier, Assistant, Enrolment & Records
Kiranjit Harry, Assistant, Office of Facilities Management
Phyllis Johnston, Administrative Assistant, Indigenous Affairs
Hardeep Kaur, Department Assistant, Continuing Education
EMPLOYEES THAT HAVE MOVED INTO NEW POSITIONS AT UFV
Ashley Friesen, Manager, Enterprise Risk
Susan Duncan, Officer, Credential Evaluation
Shirley Hardman, Associate Vice-President, Indigenous Affairs