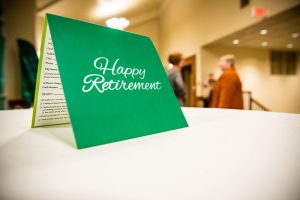 The 2022 Retirement Dinner is coming up on Tuesday, November 29, 2022. If you'd like to celebrate this momentous occasion with your colleagues, tickets can be purchased for $25.00 in Human Resources. Come out to enjoy a delicious meal, great company and to celebrate the amazing achievements and contributions made by these 30 employees:
Robin Anderson
Deborah Block
Gloria Borrows
Josephine Charlie
Margaret Coombes
Brad Coupland
Christine Dalton
Janet Davis
Debbie Dyck
Henry Gin
Patrick Harrison
Christopher Joakim
Joan Johannessen
Bruce Kirkley
Marcella LaFever
Chris Leach
Helen Lee
Mary-Anne MacDougall
Maple Melder-Crozier
Sherry Neetz
Marcel Offroy
Leslie Olsen
DawnRussell
Margaret Slabicki
Rhonda Styles
Mark Sutherland
Craig Toews
Noham Weinberg
Patti Wilson
Ron Zitron
Thank you and congratulations to you all!