As a compo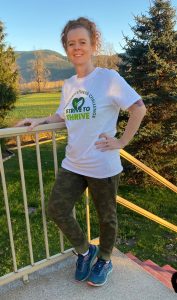 nent of UFV's Organizational Health Strategy, the Employee Fitness Challenge: Strive to Thrive kicked off on January 1, 2021 and was intended as a motivational tool to help keep us connected and engaged in our effort to achieve and maintain our employee's overall wellness. Employees were encouraged to participate in any activity that promoted overall wellness for them – physical, mental, spiritual, and emotional including activities such as physical exercise, meditation, reading, writing, and healthy cooking, just to name a few.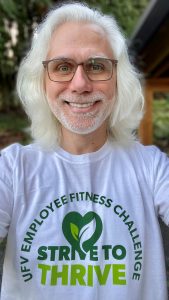 With the help of the Marketing department we built a webpage that described the program, contained a registration form and a weekly submission form. The registration form was a great tool for collecting some basic information from employees such as informing us of their current activity level, what their personal goals were and what types of wellness programming they would like us to provide. The weekly progress report submission form was a way for participants to report on their progress, to let us know if they achieved their weekly goal, and to set a new one for the coming week. Every week a name was drawn for a great prize from everyone that submitted their report.
Every Monday I posted new "Weekly Words of Wellness" to the webpage, and I continuously added all of our upcoming activities as well as information, resources, recipes, photos and stories https://www.ufv.ca/hr/health-well-being/fitness-challenge/
194 employees registered for the Fitness Challenge and they were all sent an awesome Strive-to-Thrive t-shirt with the gorgeous logo designed by Camilla Coates, one of UFV's very talented designers.
During the winter, 2021 program, we ran three "Challenges". The first was the 7-Day Hydration Challenge which ran from Feb 2-8 and encouraged employees to drink more water. The registration form contained useful facts and information on the importance of staying adequately hydrated. Participants were provided with a fun, interactive tracking chart in which they had to color in their water drops for every glass they drank. Great prizes were drawn for this challenge with the grand prize of an Osprey backpack filled with other goodies going to one lucky participant that successfully completed the challenge.
Because the majority of our participants listed walking as their main form of activity, our second challenge was directly related to that – the Walk to Harrison Challenge. Over the course of 14 days, between March 1 and March 14, participants were tasked with walking the equivalent of 63.7 km. 82 employees took part in this challenge and almost 50% of them walked the full distance! Many great prizes were given out with the grand prize being a get-away at the Harrison Hot Springs hotel which I'm sure will be enjoyed once it is safe to do so.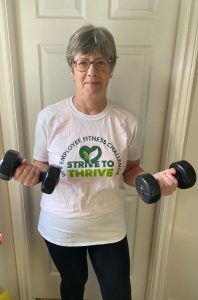 And our final challenge – BINGO – took place from March 22 – April 4. This was a super fun one because it involved so many facets of wellness. Participants needed to fill in as many spaces on their bingo card as possible by doing a variety of activities including, but not limited to, eating a fruit/vegetable with EVERY meal, spending time stretching before bed, writing in a journal, getting a full 8 hours of sleep per night and reaching out to a family member or friend they missed. The grand prize for this challenge was a weighted blanket and a diffuser and essential oil gift pack from Sage Natural Wellness.
At the end of each month we mailed a small token to all members to put a smile on their faces and keep them motivated. Branded items included chapstick, magnets, hand sanitizer, and reflector lights to keep you safe during those late-night walks.
Throughout the challenge we hosted many virtual workshops and lunch and learn events that were very well attended. We were so fortunate to have some of our own faculty share their expertise with us. Sessions included one on nutrition hosted by Dr. David Harper and Dr. Luisa Giles where we discussed healthy eating habits; one from Dr. Gillian Hatfield on lower back pain, which has become even more of a health issue during Covid, and another on indigenous heath and wellness practices by Shyama-Priya – boy were those pow wow dance moves a workout! And also a special thanks goes out to Susan Francis who took us through three virtual DanceFit workouts!
I was very happy to have a kinesiology practicum student work with me this semester and every week Katie and I hosted a Zoom 10-minute kick-start workout that we really enjoyed. We always spent the first few minutes just saying hi and socializing a bit. Participants were encouraged to continue the 10-minute workouts for the rest of the week until the next Monday, when we'd meet again on Zoom.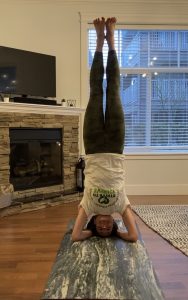 Every Monday I liked to send a Motivation Monday message to all participants congratulating them on the past week and giving them encouragement for the next, and every Friday I'd send a High-Five Friday email to everyone wishing them a great weekend and reminding them of any upcoming events and activities. I always received a lot of emails of gratitude which really made my work on this project so rewarding.
At the end of this challenge we did a draw for three grand prizes from all of those that participated. A huge CONGRATULATIONS goes out to:
Dawn Russell: $200 gift card to the Wild Orange Spa
Michelle Johnson: Theragun Mini Massager
Kasey Alger (Merritt):  Apple Watch
The message that Strive to Thrive upholds is that the journey to health and wellness is never consistent; there will be ups and downs, some weeks that are better or worse than others, but any progress, no matter how small, is a step in the right direction. Amidst the stress and responsibility life brings, and especially during the past year of the pandemic, my goal was to remind our employees to never lose sight of the benefits that come with working towards a better version of yourself. I always ended my messages with the words Strive to Thrive, whatever that meant to them.
Thank you everyone for joining me in this fun program. It was a great way to stay connected, to learn and to stay healthy. I'm already hard at work developing our next challenge set to kick-off on September 1 with new and exciting events and activities. I hope you'll all join me once again. Have a wonderful summer.