Good morning everyone. I hope the past week was productive and enjoyable for you. I am a little concerned that I am not engaging you enough and providing enough opportunities for you to work on your wellness. Of the 192 members of this group, only 63 of you submitted progress reports this week (33%) and they tracked 27,590.50 wellness minutes.  It was spring break so maybe you were super busy or maybe you just forgot to submit your form. I hope that is the case and that you are still enjoying the program.
This week's progress report draw winner of a $50.00 gift card to lululemon was Avril Alfred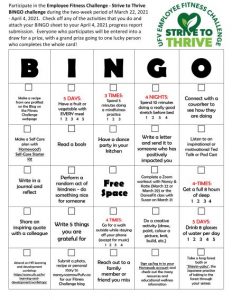 ! Congratulations.
Next week you will not want to forget though, especially if you've been working on our current challenge – BINGO. All those that complete the card and attach it to their progress report will be entered to win the grand prize which focusses on self-care! A weighted blanket (which are amazing and help reduce stress, anxiety, ease restless legs syndrome, improve sleep quality, sharpen focus and many more benefits) and a diffuser gift pack from Sage Natural Wellness (which promotes relaxation, improved sleep, helps with stress and anxiety, boosts immunity, and increases energy)  . But all those that submit their BINGO cards, whether they've completed it or not, will be entered to win great prizes as well.
BONUS: I've decided to run the challenge and accept the progress reports up to 12:00 noon on Tuesday, April 6 because of the long weekend.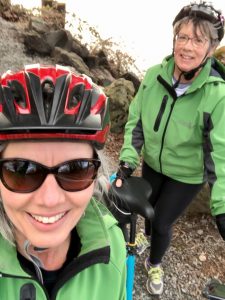 I've received a lot of pictures and recipes which I've been posting on our webpage under information and resources. I've attached a couple of pics here too for you to enjoy. Remember the old Fitness Challenge so many years ago when participants received these amazing green Stormtech jackets? Some of us still wear them all the time! Linda Dahl and Marlene Affleck started biking once a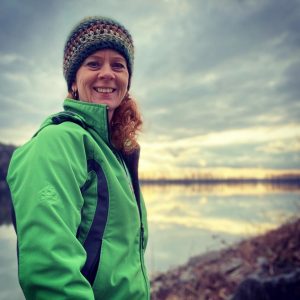 week in the fall for the UFV/ParticipACTION fitness but mostly to see another "real" person during COVID.
"We just started up again with the spring time change. I'm grateful that UFV has revived the fitness challenge and appreciate your positive and enthusiastic leadership."
She sent me this pic of them out bike riding this week in their green jackets! Anyone else still wear theirs? (And thank you for the nice comments Linda.)
You've been sent a March update and tracking card along with a little surprise, so watch for that in your home mailboxes. We are working on some great things for our last month of the challenge including exercise classes and a couple of lunch & learn sessions. Stay tuned in to our webpage for all the information and resources you need to finish the Winter/21 Employee Fitness Challenge strong. Remember, the three grand prizes will be awarded at the end of April and will be drawn from all that participated in activities and submitted progress reports along the way. These three prizes are amazing and I can't wait to award them to the lucky winners!
Have a wonderful long Easter weekend and spend some good quality time with your family (and friends, maximum of 10 and outside). Eat lots of delicious food, but be sure to balance it out with some exercise and self-care.  Strive to thrive!