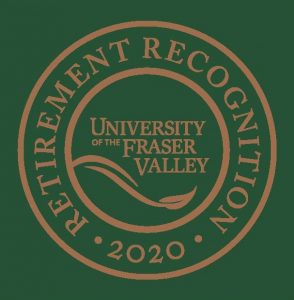 2020 is almost over and what a strange year it was! There has been so much confusion and anxiety over Covid-19 both in our personal lives and at work. We have had to learn to adapt and face the challenge of trying to be creative in how we do things in this strange virtual environment we have found ourselves in.
One big obstacle for me this year was to figure out a way to plan our special events in a different way. I still wanted to make our employees feel valued and appreciated for the work they have done for UFV. Our retirement dinner is one of the highlights of the year for many. It is a time for our retirees to get together for a wonderful evening of delicious food and spirited conversation with their families and colleagues. It is a time to celebrate their incredible dedication and commitment to our institution and to thank them for their service.
We couldn't meet in person this year, so each retiree was sent a beautiful program created by Camilla Coates, one of our incredibly talented designers in the Marketing department. Their package also contained a retirement gift from the University which we hope will bring them some joy.
But many of us definitely missed the in-person event. I'm sure all of you would like to see and learn a bit about this years' retirees so we have assembled three links here for you to enjoy:
2020 Retirement Brochure  https://2020 Retirement Celebration Brochure.pdf
Flickr Photo Set of the 2020 Retirees   https://www.flickr.com/photos/ufv/albums/72157717204401196
2020 Retiree Video   https://youtu.be/21i-XwFNoow
I have personally worked closely with all of the retirees over my years at UFV and want to wish them a very healthy and happy retirement. We are sad to see them leave us but know that the next phase of their lives will be filled with new and exciting experiences and quality time spent with their loved ones. Thank you being a huge part of UFV's success and please come back to visit us often!