Nik Venema was a UFV student who graduated in 2012 with his BBA in Finance. During his time as a student he served on Senate and the Board of Governors, and was a Student Learning Group Leader and Economics Research Assistant. In 2012 he joined the UFV Alumni Association Board and had many roles including Director, Treasurer, Vice-Chair and Chair as well as serving on the UFV Presidential Search committee in 2018. We were very fortunate to have Nik join UFV in a faculty role in 2014 teaching sessionally for the School of Business. Nik is a long-time blood donor and shares his reasons for giving.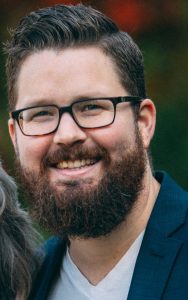 To borrow from the old slogan for Canadian Blood Services, it's in us to give. It's also easy to give, painless to give and fulfilling to give.
When I was 18, I began donating blood when I heard an ad on the radio. I don't have a dramatic story to share about someone I knew who was in need of blood. It just seemed like a good idea at the time and I knew I wasn't bothered by needles, so I decided to give it a try.
It was so easy, so quick and so painless, that I've been trying to donate as frequently as possible since then. Not to mention, you get a snack at the end.
I'm on a journey to 250 whole blood donations and I've learned a few things along the way about the importance of donating blood that I thought you might be interested in knowing – if you don't already.
If you're eligible to donate, that's a pretty special thing.
When I reached my 40th donation, I decided to recruit 40 friends, family and colleagues to donate with me. I thought it would be relatively easy to find 40 people who would be willing to donate – and I was right. The simplicity of gathering support was, however, met equally with a difficulty with eligibility.
Based on several factors, more than half of my enlistees were excluded from donating. I'm sure you will be aware of the more controversial reasons for exclusion, but other reasons for exclusion included where they had traveled recently and where they were born. Our blood supply is very protected ever since the tainted blood tragedy years ago – which is good – but it also means it's quite exclusive to give.
Perhaps that is why 4% of Canadians have reported to have donated blood while also 52% of Canadians admit to having personally (or a family member) needing blood or a blood product.
It takes a lot of donors.
Demand is significant. It takes:
5 donors to save someone who needs heart surgery.
50 donors (this is approximately 5x the average blood volume of an adult) to help save just 1 person seriously hurt in a car crash.
It takes 8 donors a week to help someone going through treatment for leukemia.
They feed you snacks.
After you finish donating, the phlebotomy team wants to keep an eye on you to make sure you're in good shape to leave. To do that, they keep you around for some cookies, chips or pretzels and a box of juice. You'll be welcomed by someone who is also volunteering their time and who, more often than not, has a great story to tell about why they choose to give.
In summary: it's easy, it's painless and it's fulfilling
Donating blood is one of the simplest, low commitment ways to lend a hand (or, in this case, a pint of blood) to your fellow citizen. There's no additional committee meeting. No minutes to review. No phone call to be on. No upsell to increase your donation. Just 30-60 minutes from beginning to end, the prick of a needle and giving a life-changing gift to someone you will never meet.
Submitted by guest blogger, Nik Venema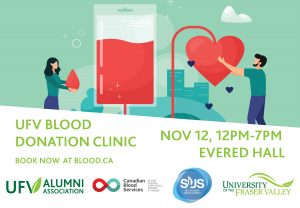 "Thanks to an overwhelming response, our blood donation clinic scheduled for November 12 at the UFV Abbotsford Campus is now FULL. Didn't get an appointment? You can still join our Blood Drive. Go to https://www.blood.ca/en or call 1-888-2- DONATE to locate a clinic near you. Register with our Partners for Life ID "UFVA480702". Your donation will count towards our goal!"