What will Halloween look like this year? There have been many posts on social media from concerned parents who are worried about allowing their children to go trick-or-treating in the regular way and seeking advice from other parents. I'm not really sure how I feel about it, and my kids are all past trick-or-treating age so it's not really something I've had to think about. I suppose I will have to come up with a way to hand out candy safely, although we live in a very remote farming area and normally only get a handful of kids. We hand out full-sized chocolate bars so it should be pretty easy for me to wear gloves and place one safely in their sacks! Halloween was always my favorite holiday growing up. I loved everything about it – the home-made costumes, the thrilling parties, the heart-pounding excitement and of course the candy! I would hoard it and hide it in my dresser drawer, savoring every piece, and making it last almost until the next Halloween. By then usually all that was left was broken yellow lollipops and the odd molasses candy! I was certainly not the type to gobble it all down in a few days – I loved to make it last.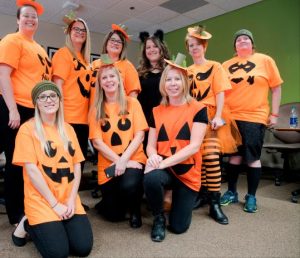 And when I started working at UFV, way back in 1989, I guess I was still a kid at heart – still am actually –I brought my love of this spooky holiday with me and I have fully enjoyed planning UFV's annual Halloween party ever since! Often it took a lot of persuasion and pleading to get some of my colleagues on board, but most of them eventually came around and were great sports about joining in with the theme of the year – and they always ended up having tons of fun!
So what about this year during this crazy time we are in? We can't celebrate Halloween in our normal way but hopefully you will join me in keeping the spirit alive by wearing a costume in all your virtual meetings on Friday, October 30. And please send me a quick picture of yourself if you aren't in a meeting with me that day. Of course I'll have prize draws for all those who participate! And Human Resources will be providing individually packaged, self-serve candy bags so if you happen to be on campus that day, swing by to pick one up.
And if you're still finding it hard to get into the spirit this year, take a few minutes to scroll through this awesome photo collage of past UFV Halloween celebrations that Anne Russell put together for us all to enjoy! Thanks Anne!   https://www.flickr.com/photos/ufv/albums/72157715825628252
HAPPY HALLOWEEN EVERYONE!