I have had the pleasure of working with Susan Francis for over 20 years at UFV and have always enjoyed her energy and positivity in every role she has had. When she was presented with the opportunity to move into a faculty position in Communications I know it was a hard decision for her to make because of the amazing connections she made over the years in her staff positions. But I am excited for Susan as she enters this next phase of her career and I am happy she that she decided to make that transition here at UFV. I reached out to Susan because I thought her journey from student, to staff member, to faculty member over a 20-year span was very motivational and interesting. I know her students will love her and that she will become a UFV faculty star! Thank you Susan for your service to UFV and we all look forward to working alongside you for many years to come!
Submitted by guest blogger, Susan Francis
Three Truths and a Lie
I've worked at UFV for over two decades.
I met my future husband while working as a co-op student at UFV.
I've worked in six UFV departments and held eight positions.
In my spare time I teach people how to twerk.
Read further to learn which statements are true and which one is a lie…
My career road trip
At 18 years old, I started at UFV as an undergraduate business student. I had big plans to become an accountant. My mom was in the financial field and I liked numbers, so it just made sense. After completing business courses and co-op work terms, I realized I was destined to work with people over numbers. I enjoyed human resources, marketing, and communications. What would be my destination? To my surprise…UFV!
A few of my co-op work terms were parked in the UFV Career Centre. As a student I helped open the employment services portion of the Centre for Co-operative Education and Employment Services. Okay, that dates me! In fact, it was back in 1998, in this co-op work term, when I met a work-study student who later became my husband. Truth. We've been happily married now for 18 years, living in Mission with two children and a fur baby.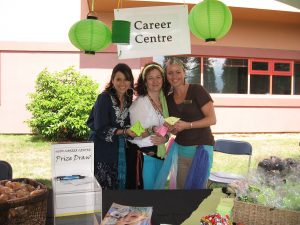 Upon completing my undergraduate degree in 2000, I was hired as a part-time Co-op Coordinator at UFV. My education, co-op experiences, and connections led me to this first wonderful career opportunity. Who knew I would park my career at the university where I studied? I certainly didn't. This role encompassed many of my passions – helping others (students and employers), human resources, marketing, teaching employment skills, and more. I held various roles in this department including Business & Arts Co-op Coordinator, Science & Technology Co-op Coordinator, and Interim Manager.
Realizing I enjoyed the leadership opportunity, I recognized I needed to further my education in order to qualify for management positions. I successfully completed a Master of Arts which enhanced my leadership, communications, and research skills. We welcomed a baby girl half way through my studies and I still look back and wonder how on earth I drove down these various lanes as a new mom? My goal of being a good role model for my daughter inspired me to persevere and ride on!
Furthering my education opened the door for more leadership opportunities at UFV. I signaled and took a left turn, transitioning to Acting Manager of Student Life where our team looked after New Student Orientation, Clubs & Associations, Campus Recreation, Student Leadership training, and student events. It was a fun position. It was when I was in this role that we, surprisingly, welcomed our son. Following our second child, I put the car in reverse and opted to work part-time for a year as Co-op Coordinator back in the Career Centre.
After returning to the Career Centre, another opportunity presented itself and I signaled right and became Acting Director of the former Office of Academic Integrity, Appeals, and FOIPOP. This was a fascinating position. I saw a different side of university administration which focused on policy. The job entailed working with faculty, students, and deans regarding academic misconducts and grade appeals. I had the opportunity to work with students, teaching them about academic integrity. In this role, I also handled freedom of information requests on behalf of the university. It was certainly the longest title I have ever held and a mouthful to say when answering the phone: "Office of Academic Integrity, Appeals, and FOIPOP, Susan speaking."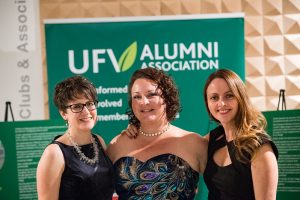 These two temporary leadership positions were excellent opportunities to "kick the tires," and build my experience, knowledge, and skills. I continued my career "road trip" and was hired as Manager of UFV Continuing Education (CE). In this capacity, I supported the team and together we provided short-term training that is skill based and career focused (15 certificate programs and over 100 courses – check them out!). I also hired instructors, provided professional development support, developed and revised program curriculum, oversaw corporate contract training, and began teaching in CE. I completed the Instructional Skills Workshop (ISW) and Facilitating Learning Online (FLO) courses to further my teaching skills.
Teaching in CE enabled me to look in the rear-view mirror and remind myself of the passion I had for working directly and closely with students, helping them in their educational and career pursuits. A sessional faculty opportunity became available in the Communications department and I began teaching one course per semester while working full-time managing CE. It was a heavy workload and a lot of "late night driving," but enabled me to again "kick the tires" and build my skills. Soon after, I secured a one-year Limited Term Appointment (LTA) contract. This presented a significant fork in the road. Continue down the administrator path or give up my full-time permanent position and accept a contract faculty position following my passion? I chose passion and haven't looked back. It has been rewarding teaching in Communications, a truly amazing subject, and a terrific group of colleagues.
So, how many departments and positions have I worked in? 5 departments and 7 positions (close, but not 6 departments and 8 positions – lie!).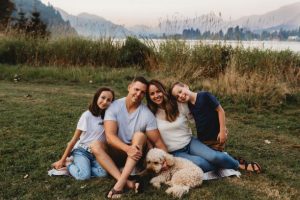 In my spare time, I enjoying adventures with family and friends, travelling, music, WINE, dancing and working out. As a personal interest and passion, I've taught group fitness for over 13 years and currently lead a wonderful group of women in a DanceFit Bootcamp class. Yes, we twerk on occasion! Truth.
As in any career, mine has had peaks and valleys, speed bumps, and swerves along the way, but it has made me who I am today, and led me right to where I am supposed to be. Never did I imagine being at the front of a university classroom teaching students. My student services experiences, administrator roles, and teaching of students and adults in various capacities throughout my life have led me to this faculty role. I am meant to teach, guide, and mentor students. #FillsMyBucket.
Top 10 Life Lessons
What have I learned after working 20 years (two decades – truth) in my career at UFV?
Continue learning – further your education and professional development – never stop learning.
Be open to opportunities as you never know where they will lead you.
Believe in yourself. "Believe it, and you will see it."
Things may not go as planned. Be patient. Trust the process.
The truth always comes out. Honesty is the best policy. I tell myself, my students, and my children this.
Avoid gossip and drama!
Be kind and build positive relationships everywhere in life.
Be transparent and authentically yourself.
Discover your strengths and follow your passions.
Work hard and leave a lasting legacy each and every day. "The legacy you leave is the life you lead" (Kouzes & Posner, 2006).
I truly believe if you "work really hard, and you're kind, amazing things will happen" (Conan O'Brien).
Throughout my journey at UFV, I have connected with some incredible mentors along the way. Thank you to Al Wiseman, Maureen Murphy, Liana Thompson, Linda Pardy, and Samantha Pattridge for believing in me, teaching me, and being a guiding light. #Grateful.