Human Resources has another new face – Tsitsi Chizengeni who joins our team of Sr. Advisors.
Tsitsi is passionate about lifelong learning and excited to join the University of the Fraser Valley (and we are excited to have her). Tsitsi told me that she isn't very comfortable talking about herself but did share some fun facts to help us get to know her better. Please feel free to reach out to Tsitsi, either in person in HR, or remotely to introduce yourself and say hello!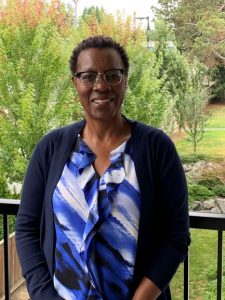 I believe in starting the day with a sense of purpose, and ending it with a sense of accomplishment, and believe that people will always remember how you made them feel even if they don't always remember what you said.
I am an experienced human resources generalist with local and international experience in the full range of human resources that include recruitment, classification, human resources planning, labour relations, performance management, professional development, affirmative action/employment equity, adult learning/training/facilitation and policy development, within various private sector/post-secondary unionized environments.
I like to spend my weekends visiting farmers markets and trying out different recipes and connecting with family and friends.
I am the proud mother of 3 adult children who are scattered across 2 different provinces.
I like to travel, though due to the pandemic, I am primarily an armchair traveler.
I am an avid watcher of Ru Paul's Drag Race.