If there is one thing that Covid-19 has given us, it's the time to reflect on the world and our own lives. It has given us the opportunity to think about what we have done so far in our short time on this earth, and what we still want to accomplish and it has reminded us that life is fragile and cannot be taken for granted. It has also reminded many of us that good things can come out of extremely trying circumstances.
Since March, the world has experienced substantial environmental improvements including less air, sound and water pollution. Of course this is temporary but it has definitely given us a glimpse of a better quality of life and the motivation we need to make change. We can hope that our policy and decision makers will now re-think our relationship with the environment and start making it a priority.
Our world-wide community spirit has also been amazing. Support groups, volunteers and community concerts have brought neighbours together for one common goal. And no one can deny the well-deserved praise we have lavished on our essential workers who are absolutely the difference makers in this frightening time.
Although sometimes challenging, I'm confident that the extra time we have spent with our families will be looked back upon as a time of re-connection and reflection and something we will always cherish.
We've all changed our work habits and by doing so have saved time and money by not travelling and developed more streamlined workflow and productivity as we've had to learn to navigate our way remotely using Zoom, Micosoft Teams and Bluejeans.
And now that brings me to the point of this story – learning something new during Covid-19. Some of us have been forced to change the way we do things and not everyone embraced it, but many of us have taken this opportunity to try something different, something completely out of our comfort zone. In addition to learning new technology so that I could work effectively from home, I've learned to knit, done a lot of blogging and am excited to start guitar lessons! Kulwant Gill, one of UFV's Academic Advisors in our Advising Centre, and one of our longest serving employees (1989) definitely went out of her comfort zone recently and went backpacking to experience camping for the first time in her life. Was it worth it? Read her story and decide for yourself. And don't forget that you too can challenge yourself and take risks. Open yourself up to new and exciting opportunities because every time you try something new, you learn and expand your life skills and self knowledge. It may seem overwhelming but I encourage you to try – you might just surprise yourself!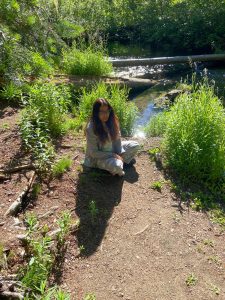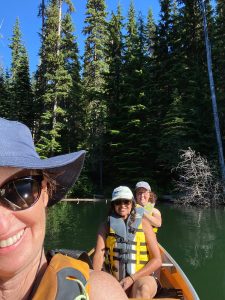 Submitted by guest blogger, Kulwant Gill
Our comfort zone: it offers safety, familiarity, structure, routine. But every once in a while, it's healthy to get out of our comfort zone and try something new. As humans, most of us are afraid to leave our comfort zone out of fear because we resort to the worst-case scenario. What if this happens, or that happens? Naturally, we want to be safe.
There have been many times when I too have opted to stay in my safety bubble as well. But recently, I stepped out of my comfort zone by going camping. For most of you, this might not seem like a big deal. But for this gal who freaks out when she sees a spider, this WAS a BIG deal. And it wasn't "glamping" either.
Yes, I love nature and the outdoors. But sleeping in a tent in the woods is an entirely different experience. Carrying a pack weighing more than 25 lbs while hiking to our campsite was humbling for me. To be perfectly honest, I was freaking out when we set up our tents at the camp site and we were the only ones there! I kept hoping at least one or two others would show up but that didn't happen. The outhouse was a little way from where we set up and that also caused me anxiety.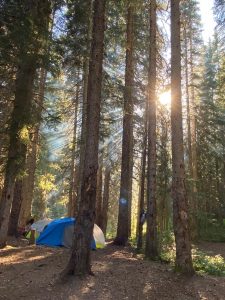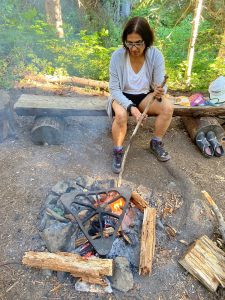 What made it less stressful was the fact I was with two experienced, strong and amazing women. I was surprised that they seemed to enjoy having the entire site to ourselves. Thank you Barbara and Francie for giving me this wonderful experience. I am truly grateful that you both went out of your way to ensure that I have a positive experience.
Roasting marshmallows was solely for my benefit so I could experience this camping tradition.The food was delicious: fancy Indian meals for dinner! The weather was just perfect. The lakes were all stunning. The paddling was very relaxing as I sat in the middle and got to enjoy the scenery. We even did a bit of yoga out there. I may not have slept like I do in the comfort of my own bed out of fear and the discomfort of sleeping on the ground and sliding on the mat, but I did stay in the tent! And I did get a camping experience, along with tons of mosquito bites! Prayer really helped me lots too, especially during the nights. Whenever I heard a noise, I would just pray that we would be safe.
I had so many awesome people looking out for me and praying that I have a great experience. Thank you Eva, Carol, Robert and Rhonda for lending me camping gear!
Nature is beautiful. Enjoy it but respect it. And always leave it as you found it or better. Leave no trace.
Blessed and grateful for this experience.