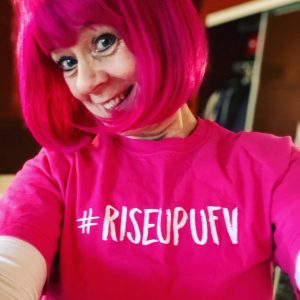 Pink Shirt Day is recognized all around the world, but actually began in Canada in 2007 when two students took a stand against homophobic bullying, after a peer was bullied for wearing a pink shirt.  The goal of this special day it to create schools, workplaces, and communities where all people feel safe, valued and respected.
The theme for this year's Pink Shirt Day is "Lift each other up" –  a simple but powerful message encouraging us to look beyond our differences and celebrate the things that make us unique.
I was happy to see so many of our employees wearing pink today, showing that they really care by spreading awareness and starting conversations – such an important step towards healing and helping! We all want to work within an environment that accepts us for who we are, and I think UFV does a wonderful job of being open-minded and inclusive of all of our colleagues.
Even though Pink Shirt Day is officially recognized only one day each year, I encourage you all to try your best to to be kind always!