Guest Blog By Amanda Rathore
LGBTQ people may hide their private lives from their colleagues and even clients for fear of homophobia or exclusion in activities. It is all too common for them to be overlooked for promotions – especially if the role is public facing. Just like me, they often avoid questions about their family life or their relationships so that they don't cause a scene at work or give people a reason to view them differently.
Most of us know someone, consider themselves, or have a family member who identifies as being a part of the LGBTQ community. We live in a heteronormative community that usually does not consider how it might be difficult for people who do not identify as heterosexual to live and work in society.  Over the years there has been a gradual change in how LGBTQ people are viewed in the workplace. The workplace is a professional environment where your sexuality should not have a negative effect on you, yet in often it does. It's time for companies to start accepting and creating an inclusive atmosphere for all generations where they feel welcomed in their workplace of choice no matter their background.
The Rise of LGBTQ People 
A Gallup poll study (Newport 2018) found that the percentage of [American] millennials who identify as LGBT expanded from 7.3% to 8.1% from 2016 to 2017, and is up from 5.8% in 2012. By contrast, the LGBT percentage in Generation X (those born from 1965 to 1979) was up only .2% from 2016 to 2017. There was no change last year in the LGBT percentage among Baby Boomers (born 1946 through 1964) and Traditionalists (born prior to 1946).
This data suggests that there could be more Millennials in the workplace that are willing to identify as compared to older generations. The Silent Generation and the Baby Boomers were more focused on the nuclear family model which consisted of two heterosexual parents and their children. Back then, if you were gay you kept it a secret and hidden from the public. Gen X who were more focused on activism and gender equality, moved away from the nuclear family, but still being gay was not something easily shared. Millennials and Gen Z are described as being big on experimenting with gender and sexual spectrums. As a result, there are more people from these generations, even though they don't identify as LGBTQ, who are supportive and demonstrate a more open mind.
This suggests that older people may have been less open or less exposed to same-sex relationships. The end result of this may be that of isolation, which is harmful to the physical and mental health of all older adults.  Older generations might be afraid to tell others in their life that they are gay for fear of discrimination, harassment or being rejected by friends and family. This is still also common for many LGBTQ youth even though today people are more accepting then in the past.  From the Gallup poll stats, we can see throughout the years, there has been a change on how we view sexuality and what constitutes a family.
Sexuality at Work
While there has been progress made, many lesbian, gay, bisexual, transgender and queer people still worry that revealing their sexuality at work will have negative consequences.
Likewise, older generations who were previously not allowed to express themselves are now coming out today with the same fears as those from the younger generations. Workplaces are becoming more aware that people of all ages and different sexualities make up their workforce.
Consider informal lunch room discussions. Have you even thought that having a simple conversation about family life, what you did on the weekend, or who you might be dating can be a very stressful and awkward discussion for an LGBTQ colleague? I have personally had this experience many times and it makes me feel uncomfortable. The risk for me is that I may want to be social and tell you about my life, but fear of rejection from my colleagues is too great. LGBTQ people, like myself, are very aware of the fact that we live in a heteronormative society.
Companies Working Towards Inclusivity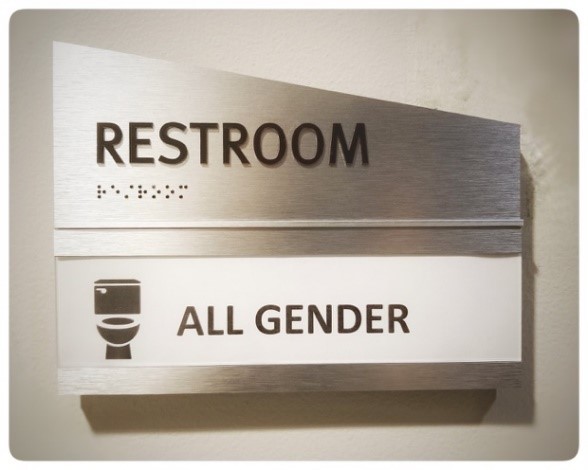 *Image published via Geneseo
Companies can use bold statements and subtle signals to create an inclusive atmosphere throughout the entire organization. The solutions need not be complex. Leadership with an open mind and positive approach to change is essential.
A new survey from the Human Rights Campaign states "Fostering a culture of inclusion has direct effects on workers' output and productivity" Carpenter (2018). In the same survey, 31% of LGBTQ respondents said they felt unhappy or depressed at work. Another 20% had stayed home from work because their workplace "wasn't always accepting of LGBTQ people." Others said their inability to feel comfortable at work had even pushed them to search for other jobs. Nearly half of all LGBTQ employees aren't out at work" (para 2).
Some bold statements that organizations can make to create a welcoming workplace would be to create gender neutral bathrooms, not tolerate bullying or harassment, and to respect everyone regardless of their identities. The University of the Fraser Valley (UFV), which I attend, has done a great job of being inclusive by installing gender neutral bathrooms throughout their campus buildings. I personally use them and have friends who use them because it makes them feel more comfortable and valued as a member of the UFV community. Having to use a gendered washroom causes problems with people who look like a "male" but identify as a "female" and vice versa. These individuals feel fear, discomfort and judgment for just using the bathroom that they would use if they were dressed or looked "normal" in society's eyes.
Organizations can also let qualified people in the LGBTQ community become leaders. For example, UFV's new president Dr. MacLean is the first woman to hold the title of president in a non-interim role. She and her partner have taken up residency in the Friesen house on campus and accompany each other to student, faculty and community events. To me this is amazing because, first, UFV has welcomed a woman to be in power, which on its own is a huge step forward. Second, having a woman who is with someone of the same sex be the face of UFV makes me happy and proud of myself because it shows that UFV is very inclusive and that anyone, if they work with integrity, no matter their sexuality, can do anything!
UFV is giving me hope for a better future.
*Image published via Skookum magazine
*Main header image published via Dreamstime