Digital Art Call for Entries
DEADLINE EXTENDED: We've had a tremendously positive response to the Laramie Project art competition so far, but we've also heard from many students that they want to enter but the deadline was too short during a busy time in the semester. To ensure everybody has a chance to enter, we are extending the deadline to MARCH 1 so that students can work on an entry over reading break. Students who have already enter will have the opportunity to revise and resubmit their work if they choose to.
---
Currently enrolled UFV students are invited to submit an original digital art piece, providing their own perspective on or response to the themes of The Laramie Project, as part of a digital art competition with a top prize of $3,500 cash and an interview with The Cascade about the winning entry.
Selected entries will be printed and exhibited in-person at UFV's S'eliyemetaxwtexw Art Gallery; with winners and honorable mentions receiving a longer exhibit in the Community Health and Social Innovation (CHASI) Hub.
We at CHASI and the UFV Theatre Department invite students of UFV to submit digital artworks that explore their own perspectives: love, loss, hope, pain, pride. What does it mean to be LGBTQ2S+ in the world today? What has changed and still needs to change? How has your identity or that of a loved one impacted, enriched, or shaped you? What can we do to honour and protect people like Matthew Shepard?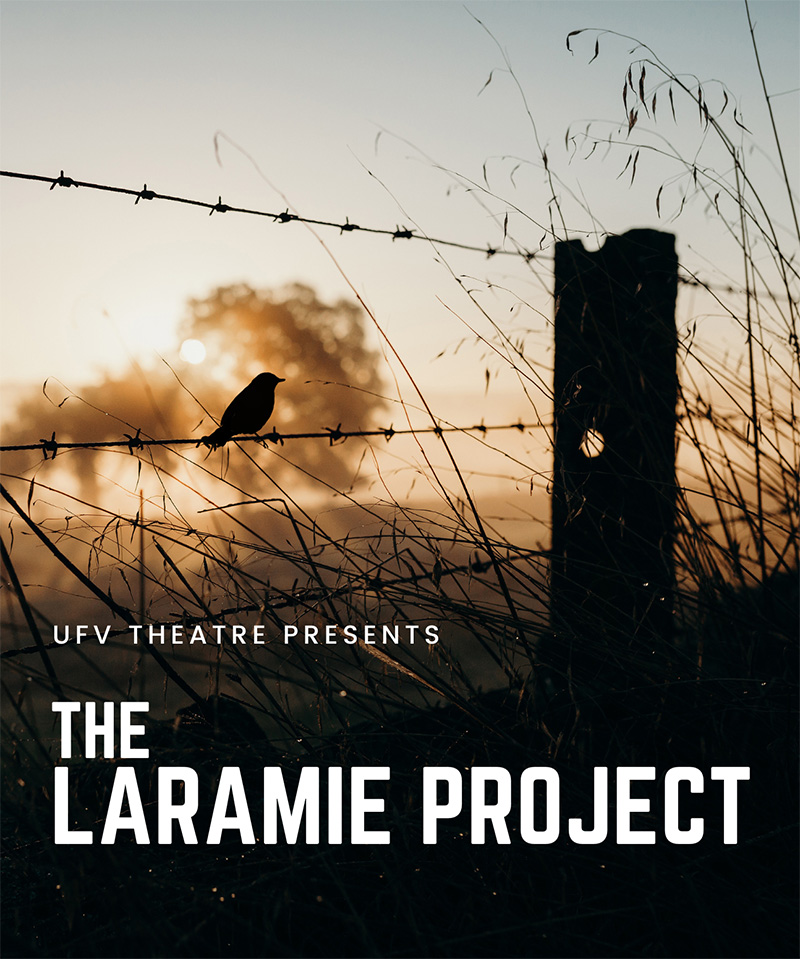 WHAT?
Digital artwork (JPG, PNG, or TIFF, 22 x 30 inches/56 x 76 cm) inspired by your reaction to the themes of The Laramie Project. Please consider your work a creative departure from the text, rather than an illustration. Full submission details are available below.
WHO?
Eligible participants must be students currently enrolled at UFV. Submissions are accepted in any language, provided English translation is also included by the participant. Students working with SOCA, CHASI, or the Theatre Production are eligible to enter as well.
WHEN?
Deadline for submissions is Wednesday, March 1 at 11:59 pm.

CRITERIA
Submissions will be judged based on the creativity & impact of your personal interpretation of the following thematics: What does it mean to be LGBTQ2S+ in the world today? What has changed and still needs to change? How has your identity or that of a loved one impacted, enriched, or shaped you? What can we do to honour and protect people like Matthew Shepard? The submission must be a single digital image, as detailed below. Only one entry is allowed per person.
Judges will be evaluating:
Artistic composition
Technical skill
Creativity and originality of interpretation
Clarity of theme
Overall impression
NOTE: All artworks must be completely original – you cannot use third-party artwork or materials in your work – this means that you cannot submit imagery that was created by someone else. We will not be accepting AI-generated artwork.
*We ask that all participants be mindful and compassionate in their submissions. The Laramie Project contains heavy subject matter that may trigger or distress viewers. Please understand we are not accepting literal depictions of violence, excessive gore, or promotion of hate speech. Judges retain the right to disqualify submissions at their discretion.
PRIZES
1st place: $3,500 cash prize & feature
3 honourable mentions: $500 cash prize
The winner will be granted the opportunity for an interview with The Cascade to discuss their piece and their personal experience engaging with The Laramie Project.
The winner and the honourable mentions will have an opportunity to have their work featured on the CHASI Blog
All shortlisted submissions will be showcased in UFV's S'eliyemetaxwtexw Art Gallery. Students will receive the hard copy print-out of their art piece at the end of the exhibit.
SUBMISSION DETAILS
To enter, art must be submitted to our call for submissions form: https://forms.gle/rWHH4vYYqXi632LcA. Entrants will be required to sign into a Google account in order to upload their work.
The submission window will open Friday, January 13 at 12:01 a.m. and close Wednesday, March 1 at 11:59 p.m. A winner will be announced later in March.
Image Parameters: A single digital image (including, but not limited to, digital drawing, digital painting, digital collages, digital photos).
Format: Images should be JPG, PNG, or TIFF format. The maximum file size is 100 MB, with a minimum resolution of 300 DPI.
Size: 22 x 30 inches/56 x 76 cm in either portrait or landscape orientation.
Image contents: Please do not include any personally identifying details on the image, or literal depictions of violence, excessive gore, or promotion of hate speech.
Artist's statement: A brief explanation of your work. 300 words maximum.
Selected entries will be printed, and by entering you grant UFV the right to reproduce your image for the purpose of this event. Students will retain the rights to their images in perpetuity. See "image usage" below for more details.
*If you require assistance to submit, have questions about the rules, or would like to request anonymity, please contact Prof. Aimée Brown at aimee.brown@ufv.ca
JUDGING
All submissions will be juried first by a peer and instructor panel from UFV's School of Creative Arts. Shortlisted submissions will then be juried by an appointed jury of UFV community members, selected by CHASI and The School of Creative Arts. Any ties for prizes will be resolved based on creativity and originality.
IMAGE USAGE
By submitting your digital artwork to this call, you are agreeing, in advance, to have your submitted artwork published to any print or digital/electronic property of the University of the Fraser Valley. This includes, but is not limited to, print and digital magazines, newsletters, websites, e-mails, social media pages, and promotional materials in perpetuity.
ABOUT
UFV's Winter 2023 theatre show: The Laramie Project
The Laramie Project is a verbatim theatre piece constructed from transcripts of over 200 interviews. The play was created by Moisés Kaufman and the members of the Tectonic Theatre Project (NYC) in the aftermath of the brutal murder of Matthew Shepard, a young gay man, in Laramie, Wyoming, in 1998. The piece reveals a community grappling with violence, responsibility, and healing. It showcases how theatre is a brave space for us to engage with this together. Directed by Theatre professor Shelley Liebembuk.
The Life and Legacy of Matthew Shepard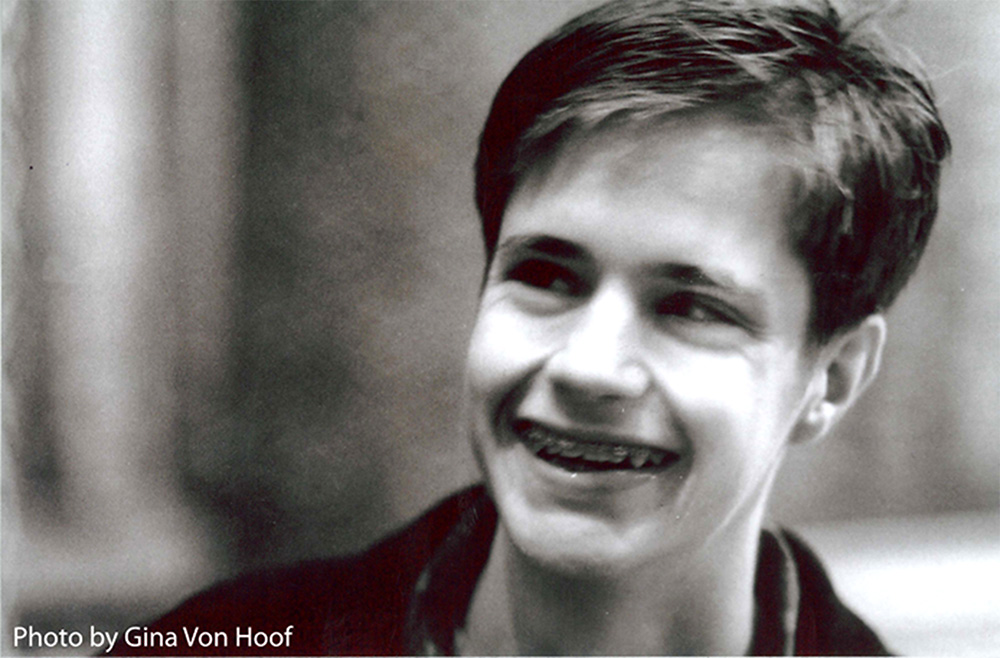 Born to Judy and Dennis Shepard on December 1st, 1976, Matthew Shepard would go on to become a student at the University of Wyoming, a beloved older brother, an aspiring linguist, and a young gay man finding his way in the nineties.
His friends just called him "Matt."
Known for his biting sense of humour and joyous spirit; a close friend, Michele Josue, also described him as "a tender-hearted and kind person."
Despite struggles with mental health and addiction he remained, as his father said:
"…an optimistic and accepting young man who had a special gift of relating to almost everyone. He was the type of person who was very approachable and always looked to new challenges. Shepard had a great passion for equality and always stood up for the acceptance of people's differences."
Matthew was deeply invested in social justice, linguistics, and theatre. At both his schooling in the USA and Saudi Arabia, he was elected by his fellow students to be a peer counselor. This upbringing instilled in him a love of travel and language that followed him into young adulthood.
These interests grew into an academic pursuit, with Matthew becoming a first-year political science major at the University of Wyoming in Laramie with a minor in languages. He further rallied for change as the student representative for the Wyoming Environmental Council. At twenty-one, he was "a young man who had an extraordinary potential."
On October 6th, 1998, he was beaten, tortured, and left to die.
Matthew Shepard was pronounced dead at 12:53 a.m. on October 12th, 1998.
Two years later, this tragedy would be captured by Moisés Kaufman and members of the Tectonic Theater Project in a heartbreaking collage of news reports, journals, and interviews with the town of Laramie. Hundreds of voices echo through verbatim theatre all around the world to tell the story of a murder and its aftermath, but more than that: a life and legacy that still sparks change.
Great strides have been made since Matthew's death. In December 1998, the Matthew Shepard Foundation, an LGBT non-profit organization headquartered in Casper, Wyoming, was founded by Dennis and Judy Shepard in memory of their son. In 2009, the landmark Matthew Shepard and James Byrd Jr. Hate Crimes Prevention Act was signed into law by President Barack Obama.
Even so, the hurt illuminated by The Laramie Project is still experienced by the LGBTQ2S+ community to this day. Twenty-three years after his death, Matthew's story still resonates with victims and survivors of hate.

Sources and more information:
www.matthewshepard.org / archived website
KTNV: Matthew Shepard's friend reflects on his life, death and legacy
Vanity Fair: The Crucifixion of Matthew Shepard
Matt Shepard is a Friend of Mine
ABC: New Details Emerge in Matthew Shepard Murder