Career Month brings four events to UFV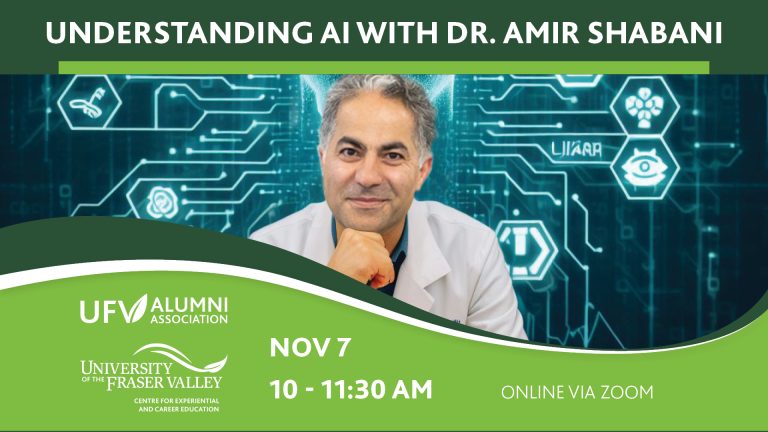 Dr. Amir Shabani is lined up as a featured speaker for an online event Tuesday, Nov 7. Working with UFV's Community Health and Social Innovation (CHASI) Hub, Shabani is an expert in artificial intelligence (AI). With AI becoming more integrated into our everyday lives, he will share his expertise with a brief introduction to the field of AI and his current research projects. He'll discuss what the future of AI may hold and the impact of AI on future job markets.
This will be a 90-minute online presentation via Zoom starting at 10 am, followed by a 30-minute Q&A.
UFV alumni come together for a Zoom presentation on Wednesday, Nov 15 titled 'Pave Your Own Career Path.' Speakers will share how they found success in shaping their careers and look back on their undergraduate memories at UFV and what sparked the passion that has led them to where they are today.
The presentation runs from 1 to 3 pm and you can register at https://connect.ufv.ca/career-month-pave-your-own-career-path.
STEP Café hosts an in-person panel Wednesday, Nov 22 from 1:30 to 3:30 pm for international students eligible for a post-graduate work permit. The event takes place in the UFV Abbotsford Global Lounge where alumni panelists will talk about how to successfully transition from university to the workplace. Hear from Gurneesh Purba (BKin '23) and Rohan Syal (BBA '22) as they discuss how to navigate the transition, what resources and supports they used, how employers support alumni, and what advice they would give to upcoming and recent graduates.
Visit https://alumni.ufv.ca/events/step-cafe-2/ to register.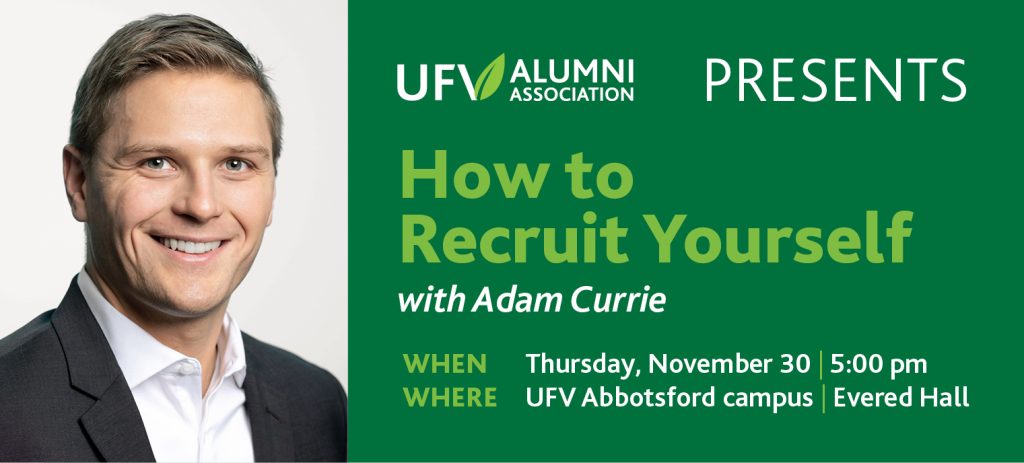 UFV alumnus Adam Currie visits the UFV Abbotsford campus Thursday, Nov 30 for a presentation titled 'How to Recruit Yourself.' The event takes place at Evered Hall in the Student Union Building, with doors opening at 4:30 pm and Currie's talk beginning at 5 pm, followed by a networking reception.
An exploration of the Canadian labour market will provide a behind-the-scenes glance at management hiring practices, the impacts of emerging technology, and the hidden job market. Currie will uncover and explore a proven method to get yourself hired usually reserved for executives and accessed exclusively through highly paid consultants. This method includes actionable advice, including how to brand yourself effectively on platforms such as LinkedIn.
According to his bio, Currie works for Fraser Health as director of executive search and senior leadership acquisition. He leads the strategy and execution of the executive and physician talent acquisition programs for the largest regional health authority in BC.
This event is also open to the public, and other event partners include UFV Student Union Society and the Abbotsford Chamber of Commerce's Company of Young Professionals and Entrepreneurs.
For more info, visit https://alumni.ufv.ca/events/how-to-recruit-yourself/.