Bondar targets misinformation in Exploring Equity Speaker Series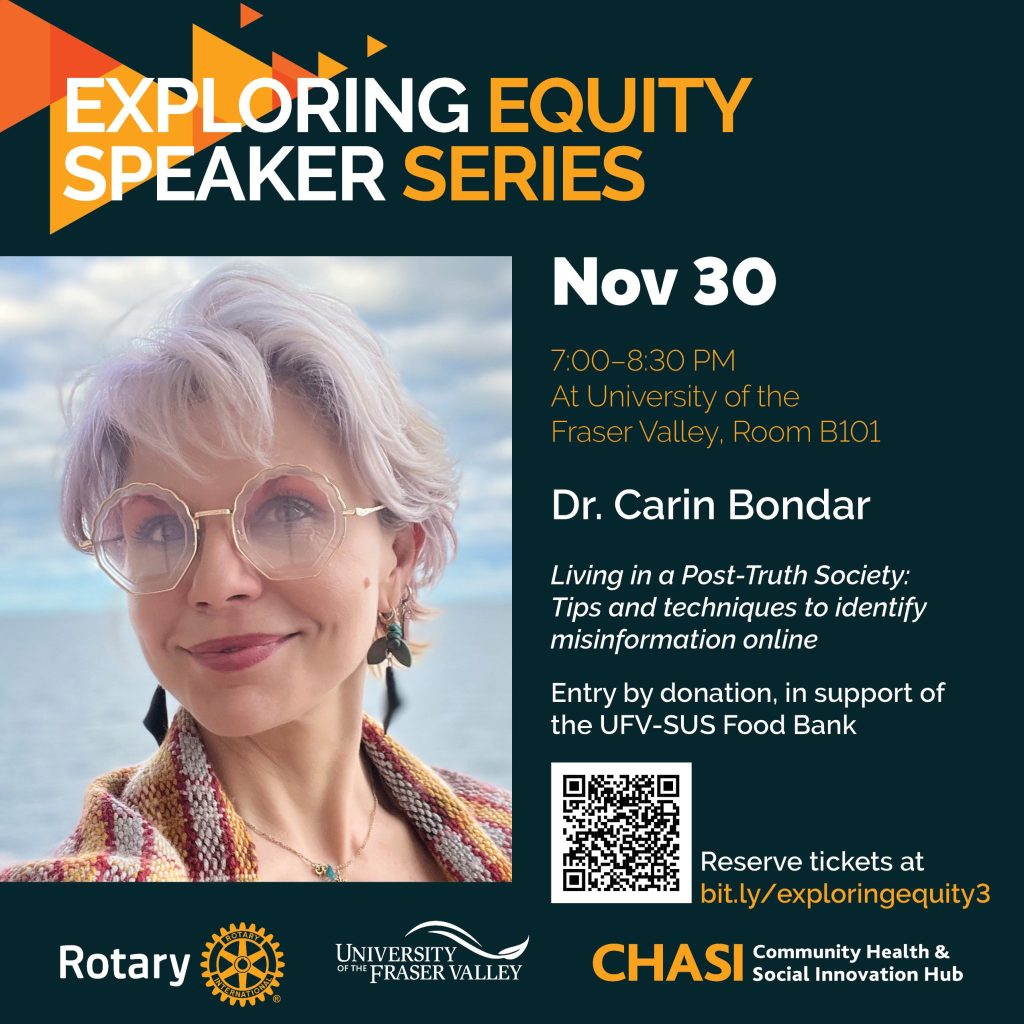 What's real and what's fake? What can you trust? It's hard to tell what to believe in the social media age, but there are ways to cut through the noise. In the third installment of the Exploring Equity Speaker Series, Dr. Carin Bondar will talk about the challenges of 'Living in a Post-Truth Society — tips and techniques to identify misinformation online.'
Taking place Thursday, Nov 30 from 7 to 8:30 pm on UFV's Abbotsford campus, Bondar's presentation is the latest conversation around advancing equity in our community. It's presented by the Rotary Club of Abbotsford Sumas and UFV's Community Health and Social Innovation Hub (CHASI).
Bondar calls the eastern Fraser Valley home and is a trustee on the Chilliwack School Board, where she's a staunch advocate of keeping girls in STEM (science, technology, engineering, and math) education. A biologist, author and philosopher, her work focuses on increasing science literacy and communication in the public. Bondar is a lecturing adjunct professor at UFV, teaching in the areas of science communication and environmental science.
Her work has appeared on National Geographic, Discovery Worldwide, TED, Animal Planet, Netflix, and The Science Channel.
This is the third event in the Exploring Equity Speaker Series. Dr. Keith Carlson, Tier 1 Canada Research Chair, Indigenous and Community-Engaged History and director of the Peace and Reconciliation Centre (PARC), headlined the first event on Sept 30. On Nov 2 Dr. Darryl Plecas, Professor Emeritus at UFV, discussed youth crime in Abbotsford and how it compares to elsewhere in the world.
Entry to Bondar's talk is by donation, supporting the UFV-Student Union Society foodbank. To register, visit https://www.tickettailor.com/events/ufvscommunityhealthandsocialinnovationhub/1053113
For more information, email Jeff Mijo-Burch at Jeff.MijoBurch@ufv.ca.