Adapted first aid training empowers EAL learners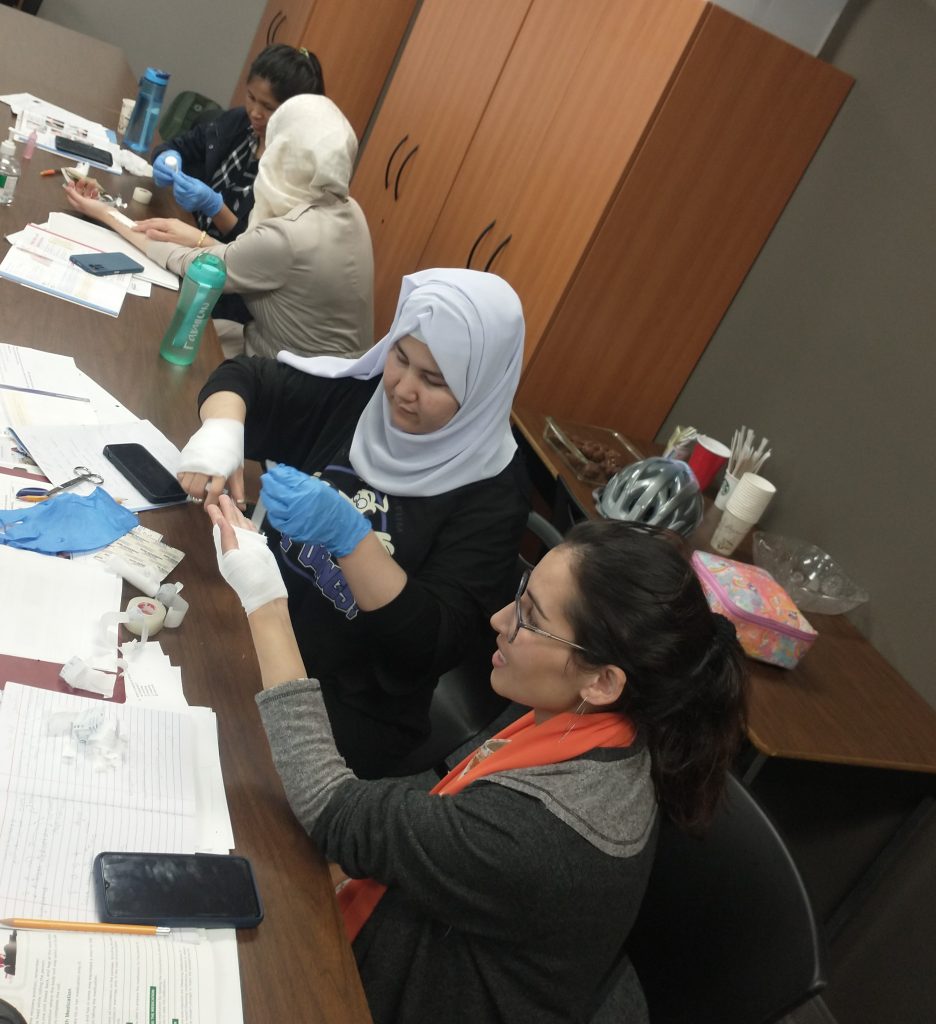 UFV is contributing to culturally sensitive and trauma-informed first aid training through a newly launched English for First Aid program. UFV's Continuing Education faculty has partnered with the Teaching and Learning Centre, and Archway Community Services, producing new curriculum that better reflects the diversity of learners.
Continuing Education delivers first aid training to people inside and outside the university, and because the eastern Fraser Valley is a landing spot for many newcomers to Canada, there can be a significant language barrier.
"There's a job-ready program through Archway, and part of that program is first aid training provided by the university," says UFV instructor Mike Mutter. "What I noticed two or three years ago is that there were folks from all these different countries and backgrounds, and they were having a huge problem with the vocabulary and the multiple-choice questions.
"First aid training is very technical in its terminology and it's very fast-paced. I could tell by the body language of some students walking into the classroom that they were particularly anxious about this complex terminology."
Developing the new curriculum, Mutter mostly worked with UFV colleague Victoria Surtees and Archway's Karla Hiltermann. Mutter was the first aid content expert, Hiltermann was the English language specialist and primary curriculum developer, and Surtees helped incorporate culturally responsive and trauma-informed principles.
They couldn't change anything about the Red Cross curriculum, but they developed English for First Aid as a pre-course that students can take beforehand. The work was funded by a $4,000 award from the BC Teachers of English as an Additional Language (BC TEAL) Charitable Foundation.
The course walks students through the vocabulary and concepts (like dialing 9-1-1) that they'll encounter in Red Cross curriculum.
"Mike gave me the list of words and concepts most difficult for learners and I came up with activities that give participants a chance to engage with the material in a non-threatening way," Hiltermann says, adding that everything was done strategically. "By the time they attend the official first aid training, they are comfortable with the terminology, instead of hearing it all for the first time."
When students run into trouble they are also allowed to use technology, like Google Translate.
"If there are terms on slides that they don't recognize, they can snap a picture, use Google Translate and it will come up in whatever language they choose," Mutter says.
Creating trauma-informed curriculum was a huge goal.
"If we put a picture up there of somebody bleeding, and we have students who've come from war-torn countries, that's going to be very uncomfortable and distressing for them," Mutter says. "So we were very careful about the images we were using as we put this pre-course together, and it was about, 'How can we have images representing a hemorrhage or tourniquet without it being too graphic?"
Smaller things can make a big difference. Continuing Education has invested in the purchase of culturally diverse mannequins with different-coloured skin, male and female. All of the current mannequins are Caucasian and not reflective of the student body or of the world in general.
"This project was an incredible collaboration between UFV and two of UFV's amazing alumni and community leaders, Paula and Karla. We each brought our own expertise to create something that meets a real need for students," Surtees says. "The curriculum is something we are very proud of. The attention to language, but also to community-building and culturally-challenging concepts like 'emergency' or 'consent,' really make these materials stand out.
"In a very real sense, it is reducing barriers to student success in UFV's programs."
Students were part of the program development, participating in focus groups. Feedback to the finished product has been positive.
"First afraid?" one student offered. "Right now, to help another person or any family, I'm happy to help. Confidence."
The curriculum is being made available to English language educators for free on tutela.ca or they can email Victoria.surtees@ufv.ca
"This was one of those projects we did because we knew it was the right thing to do," says UFV Continuing Education director Carolyn MacLaren. "It's been nice getting that recognition from colleagues that we've done something that can make a significant difference."