Social work student finds life purpose at UFV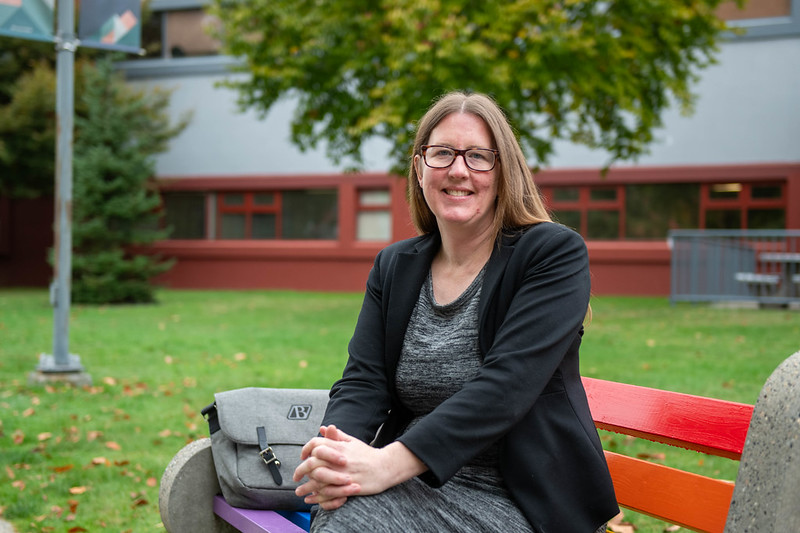 When UFV social work student Gina Johnson was very little she had terrible battles with bronchitis. One bout was so bad that she needed a tracheotomy and couldn't breathe without the help of a ventilator. Every time the bronchitis flared up, the little girl returned to the hospital.
It was an exceptionally tough time for a child who was no older than five, but from it came the first glimpses of what she was meant to do.
"My mother told me that when other children would come into the hospital who were fighting to breathe, I'd walk up to them and I'd say, 'If you just stop crying, you'll be able to breathe better. It's going to be OK,'" Johnson recalls. "That was my thing from a very young age. I saw people who were struggling, and I wanted to help."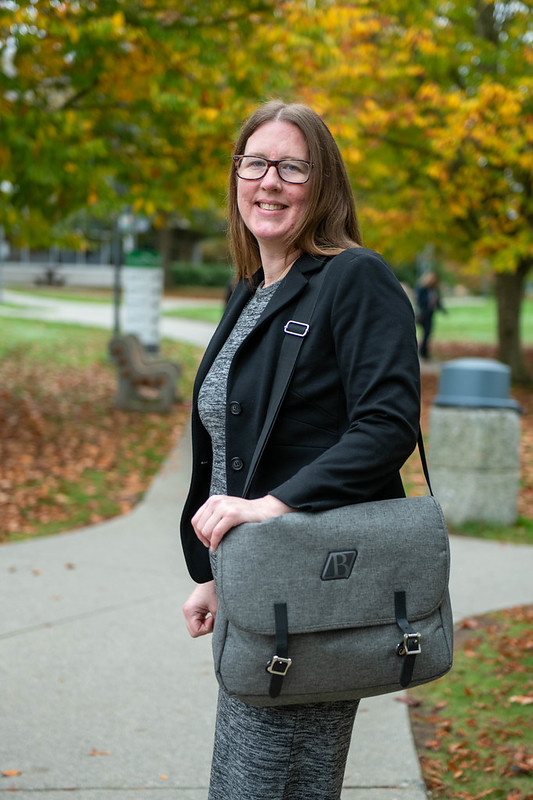 But that was only a small first step on what would turn out to be a long and winding road with many, many detours along the way.
Johnson would marry young and have three kids (and eventually two grandkids). She'd become a public transit bus driver, then be forced to quit at age 34 when she had a heart attack. She'd separated from her husband and been forced onto CPP disability and Persons with Disabilities. Johnson laid awake at night wondering how she was going to make it through another day, week, month.
"It was like humble herself and take handouts, or face humiliation and ask for help," she recalls. "I even tried working at a funeral home on commission sales, and I made less money than minimum wage. It was challenging for a couple years, but I couldn't even tell you how it felt because I was too busy trying to figure everything out to give any thought to it."
All the while there was a little voice calling to her. Her five-year-old self intuitively knew what she was meant to do, that helping people was "her thing."
When Johnson started listening to that little voice, everything changed.
It took a lot of courage to enroll for one semester at UFV in 2019. Johnson wasn't certain she could handle an academic workload while raising her kids. But she dove into it and started making headway. She finished one class. Then two. Then three. She earned a social service worker diploma in 2022 and kept on going in the bachelor's degree program.
"I didn't think I could do it, which was why I started with just one class, but I figured I might as well try," Johnson says. "But the more papers I put behind me, the more exams I put behind me, the more evidence I had that I could actually do it."
Johnson received a huge financial boost when she earned two scholarships.
According to its website, the Beedie Luminaries SPARK Program (Single Parent Award for Resilience and Knowledge) recognizes the challenges and dreams of single parents who want to further their education and provide more opportunities for their families but are facing financial adversity. That provided Johnson with $11,000. The Young Women's Christian Association empowers women by providing the tools and skills necessary to overcome barriers and achieve financial independence for their families. That covered two semesters with $3,000 and $5,000 grants.
Johnson earned every penny of those scholarships, making UFV's Dean's List while maintaining a grade-point average above 4.0.
"Gina is achieving her goals while raising her son as a sole parent and maintaining her personal wellness," says Curtis Magnuson, director of UFV's School of Social Work and Human Services. "I continue to be impressed by her determination to succeed and dream big about her future social work career."
Magnuson noted that Johnson has expressed genuine interest in learning more about leadership and organizational change.
Nearing completion of her bachelor's degree, she now has her sights set on two more years to earn a master's degree. She needs it to counsel people who've experienced trauma. She's drafted an entire plan to create a healing centre for parents who must care for their children while they deal with cancer, or a car accident or some other traumatic experience.
"It would have doctors and counsellors and give them what I didn't have when I went through my divorce and heart attack," she says. "It might cost a hundred million dollars to do it, but it's my guiding dream."
So, the journey isn't done. But Johnson knows she's heading in the right direction. She marvels at where she was and where she is and feels great about what she's accomplished. School helped her find out who she really was, and she believes the best is yet to come.
"The reward is doing what I'm meant to do, and I've found my purpose in life," Johnson says. "That's the most important thing you can find.
"I've found my thing."