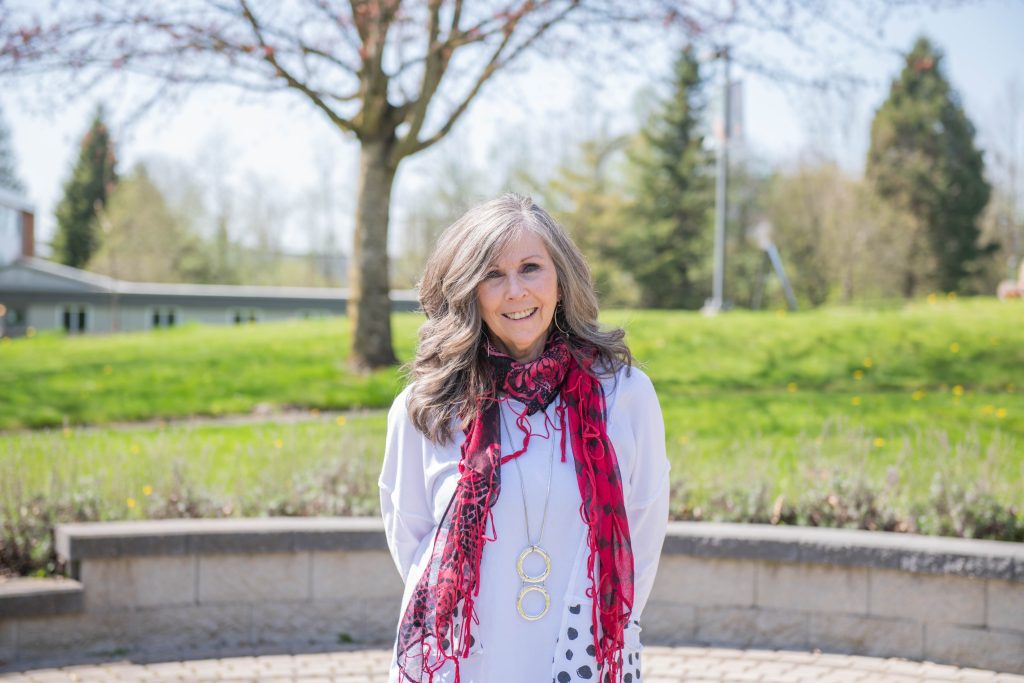 As she reflects on 27 years of teaching at the University of the Fraser Valley, Dr. Christine Slavik sees more than just a number: she sees a body of work that aligns with her core values.  
Whether it is leading her team through a pandemic with mindfulness, creating safe digital spaces to discuss concerns, fears, and challenges, or even bringing physical spaces to life like the labyrinth and the yurt on the Abbotsford campus, Dr. Christine Slavik approaches every situation with a curious and open mind.  
That approach and dedication to alignment has made her this year's co-recipient of the Inspirational Leadership Excellence award.  
"Christine is always mindful, kind, and professional in her intentions," said RoseAnne Timbrell of Child, Youth, and Family Studies, who nominated Slavik for the award. "She walks alongside faculty and support staff and makes sure everyone's needs are being met to do their work."  
Slavik's talent for engaging and reassuring her team was especially pivotal during the pandemic, when the programs in the Child, Youth, and Family department did not yield easily to digital learning.  
But Slavik believes her life up to that point was in preparation for what would happen in 2020.  
"I had the opportunity to pilot one of my courses, the hospital-based Child Life course, online via distance education," Slavik recalls.  
"Because of that opportunity, I received a lot of great instruction about how to build a community of practice and a community of learners online. I felt very blessed and provision-fortunate to have had experience teaching online. It's like, it's okay. Let's take a breath. We know some things about this business of online instruction. We can do this, and we can do this as a team. And even those that don't have experience, we're here to support each other to get there."  
It's not just this prior experience that helped Slavik become an excellent leader. It's also her outlook.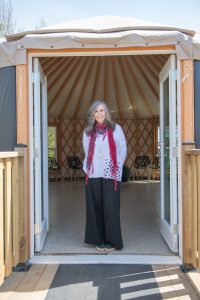 "Christine has led this unit with integrity, positivity, and unwavering sense of purpose," says Mary Saudelli, Associate Dean of Education, Community and Human Development.  
Community spaces are important for Slavik's work in mindfulness-based education. It is what led her to championing two spaces on the Abbotsford campus: the labyrinth and the yurt, two circular structures that provide multiple options for learning potential and engagement.  
Slavik draws attention to the shape of the circle inside the yurt and in the labyrinth. 
"We're not in a square box where we're in rows and everyone is facing the same direction. There's a sense of civility and democracy in here… a sense of connection with each other. There is also a sense of spaciousness, like a net that gathers in and catches yet has space between the weaves. Here it is possible to feel both contained, held and a sense of safety and spaciousness."   
That net extends beyond students, noted Saudelli in her letter nominating Slavik for the award.  
"I have personally witnessed Dr. Slavik advocate for changes in practice, mentoring, and supporting faculty to take on their own leadership roles within the department."  
When asked how she feels receiving the Inspirational Leadership award, Slavik said her students and colleagues deserve some of the credit. We couldn't have done it other than together! 
"It's the followers that deserve the accolades really, to have the courage to get behind someone else's thoughts and visions and strengths. And it's an incredible honour. It really, really is, and I have such gratitude for those relationships and the people that I work with and those that nominated me. It's very, very special."