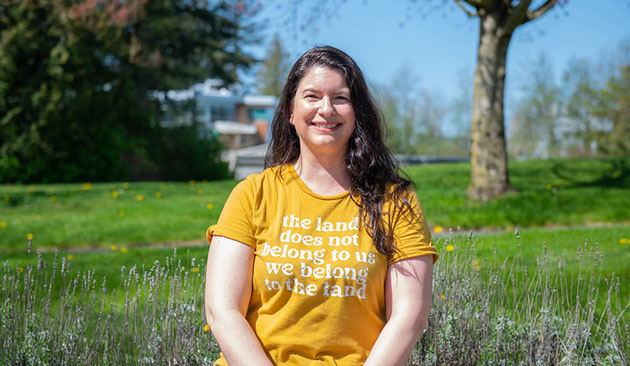 For Dr. Stefania Pizzirani, her duties as an assistant professor at UFV don't fall into strict silos of teaching, research, and service. They all blend together.
Her teaching includes service components. Her research is often based on grassroots community needs. And her service activities feed off her teaching, her research, and her relationships with students, fellow faculty, and community members.
For the dedication she brings to her vocation Pizzirani, an assistant professor in the School of Land Use and Environmental Change who joined UFV in 2019, is this year's recipient of the Faculty Service Excellence award.
Jennifer Martel of UFV's Office of Sustainability, who nominated Pizzirani for the award, had a hard time narrowing down which category to nominate her for.
"Stefania embodies a service mindset in everything that she does. This is seen in her teaching and interactions with her students, and the incredible effort, dedication, and care that she puts into her research. While Stefania is worthy of all of the faculty excellence award categories, the service award seems most fitting since her service shows up in all areas," says Martel.
"The genuine care that Stefania has for the students, their well-being, and their futures, is demonstrated through her dedication to offering students opportunities and networks beyond the classroom that they will be able to utilize upon leaving UFV."
Pizzirani's service mindset shines through in her research, which is mostly community focused. Through her internal and external research partnerships she extends across disciplines, applies a justice and equity lens in her environmental research, and involves local regions and communities in projects aimed at fostering sustainable resiliency.
Breanna Gueldner, a student worker with the Office of Sustainability, has worked as a research assistant for Pizzirani.
"Stefania is passionate about bringing ideas to communities in order to see positive change. She engages in research projects that lead to practical solutions for environmental issues. An example of this is with her sustainable fashion research. Its purpose is to find gaps in BC's apparel industry to create a more resilient and earth-friendly clothing life cycle. Working with her on this project has been inspiring, and she has shown me how research can and should be a service to benefit the community."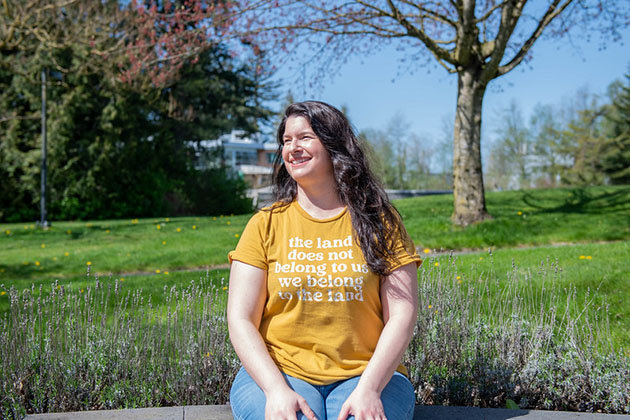 Pizzirani has worked on several extracurricular initiatives but perhaps the best known one is the March for Sustainability, a series of environmental events held in March, now in its second year.
The series grew out of discussions between her and the Office of Sustainability, with a goal of finding ways to raise awareness of issues related to sustainability. Pizzirani had an idea for a clothing exchange and repair fair. This modest goal led to five sustainability-focused events in March 2022, and 13 in 2023.
While Pizzirani says it's validating to receive the Faculty Service Excellence award, it's also symbolic of the efforts of a community of passionate people.
"I discovered that I thrive when I leverage my passion for sustainable and environmental issues and combine it with a focus on wellbeing and our community," she says. "And doing it with other people makes it even better. We are creating a really strong cohort of people who care deeply for our students and our community, and the fact that what we do matters makes it even more rewarding. Work with an Indigenous and environmental focus is never really finished. I am grateful for everybody's work and dedication. We are all stronger together."
-30-