Chef's Table gives culinary students chance to shine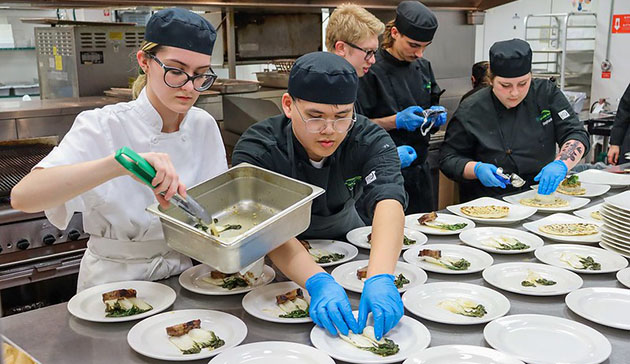 The Professional Cook 2 culinary students have reached a significant milestone in their culinary education as they recently concluded their Capstone project — the Chef's Table. Each chef was tasked with designing a three-course tasting menu that authentically represented their culinary passions, experiences, new skills, and personal favorites, providing guests with a glimpse of their unique culinary identities. The project provided a platform for the students to showcase their culinary skills, creativity, and kitchen management abilities, inviting their loved ones, community leaders, and faculty members to witness them in action in the kitchen.
The chefs had three parameters while creating their menus. They must use BC mushrooms in at least one dish. British Columbia is known for its lush forests and diverse ecosystems, it is also home to a wide array of mushrooms. The chefs embraced this local treasure celebrating the bountiful nature that surrounds UFV, and showcasing their knowledge of BC mushrooms and their culinary potential.
Adding an exciting twist to the Chef's Table, their second parameter was to use something that they foraged. Two weeks ago, the culinary students had a guided foraging tour from herbalist Muriel Victor as they explored the surrounding area of Sweltzer Creek on the Soowahlie First Nation. Muriel taught students the basics of sustainable foraging, emphasizing the importance of responsible harvesting, ensuring that they only collected what they needed while leaving ample resources for the ecosystem to thrive. The culinary class learned to identify different edible flowers, plants, herbs, and mushrooms. The incorporation of these foraged ingredients added an element of connection to the land and a deeper appreciation for the local culinary heritage.
The culinary students were presented with an exciting choice for their final parameter. They had the freedom to create a full vegan menu, while also needing to provide an explanation of how these plant-based dishes would deliver essential nutrition and protein to their guests. They were also granted the opportunity to explore the culinary possibilities by selecting their preferred cut of lamb or opting for a whole duck. However, there was a stipulation that required them to utilize every part of the duck, including its wings, thighs, legs, breasts, and carcass, leaving no room for waste. This requirement not only challenged the students to maximize the potential of each ingredient but also encouraged them to showcase their resourcefulness and dedication to minimizing food waste.
These parameters were designed to compel the culinary students to apply the knowledge and skills they acquired during their Professional Cook 2 (PC2) training in creating their menus. By setting the criteria to incorporate the techniques and culinary principles learned in PC2, the students were challenged to utilize their expertise and showcase their proficiency in designing innovative and flavorful dishes. These parameters not only tested their ability to translate theoretical knowledge into practical culinary applications but also allowed them to demonstrate their mastery of the techniques and concepts learned throughout their PC2 journey.
Before serving their dishes, each chef took the opportunity to describe their creations to the guests in the kitchen, explaining how the dishes meet the parameters outlined, ingredients, and techniques used, providing a glimpse into the flavors and textures that awaited the diners.
Each chef received a guest score, where they were evaluated on their menus, flavours, plating, and presentation. The audience members had the opportunity to provide their feedback and assign a score out of 10 for each aspect. This scoring system allowed the chefs to receive valuable input and assessment on their culinary creations, enabling them to gauge the success of their dishes and identify areas for improvement.
The Chef's Table spanned four nights, during which each chef had a turn to present their menu. The culinary students took turns assuming different roles in the kitchen. Each chef had the opportunity to be a guest, eating the dishes their classmates prepared. They also had the chance to step into the role of the head chef, taking the lead in executing their own menu with the support of a sous chef. Additionally, they embraced the role of a helper, assisting the chef and sous chef. This rotation allowed the students to gain a comprehensive understanding of various responsibilities in a professional kitchen and fostered teamwork and collaboration among these aspiring chefs.
The dining experience at the Chef's Table was nothing short of exceptional; guests were served across all four nights a selection of mouth-watering dishes. There were refreshing dandelion greens salads, and bold and flavorful chipotle mushroom tacos. Perfectly grilled chicken teriyaki kebab skewers, aromatic lamb curries, fresh seafood pasta, and a breakfast lamb burger brought a unique twist to the table. Greek-inspired lamb chops with a mint sauce. Smokey duck wrapped in prosciutto and braised pulled lamb shanks with mushroom pilaf rice were among the standout dishes. For dessert, guests indulged in decadent cheesecakes, creamy mini panna cottas, flaky apple pies, sweet and savoury macaroons, rich black forest trifle, and elevated smores that were a testament to the students' skill and imaginative dessert creations. It was evident that each dish was crafted with passion and dedication, leaving guests thoroughly impressed by the students' culinary prowess.
After the successful completion of the Chef's Table, the Professional Cook 2 students are now eagerly preparing for their final exam, which marks the culmination of their time at UFV Trades. This exam holds special significance as it represents their last academic milestone before bidding farewell to their educational journey at UFV. The knowledge and skills they have acquired throughout their time at the Faculty of Applied and Technical Studies has equipped them to excel in their exam and embark on their future culinary endeavors with confidence.