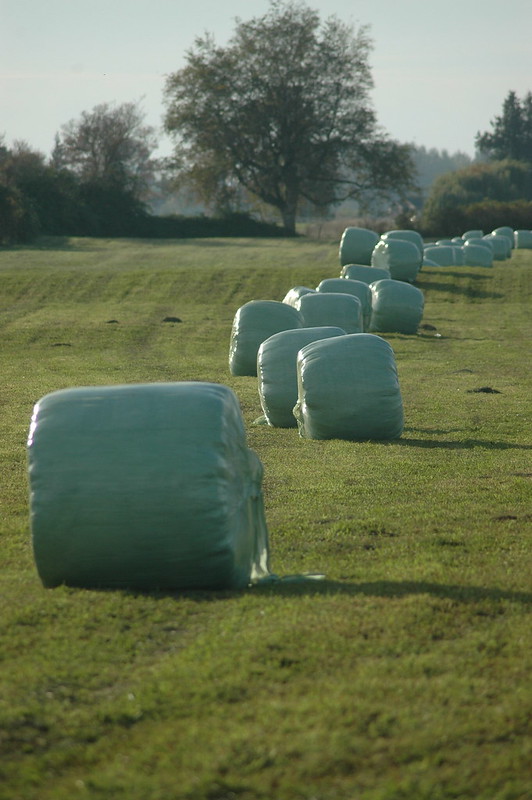 Driving through the countryside, people often like to marvel at what look like "marshmallow fields" visible by the roadside.
In reality, those giant white or green marshmallows are rolls of grass, expertly wrapped in plastic to preserve it for feeding to dairy cows.
Larger pieces of bunker plastic are also used to cover silage (chopped grass and corn) inside barns.
But once used, that plastic becomes one of the biggest sources of plastic waste in the agriculture sector.
Efforts are underway to find ways to efficiently recycle the plastic, and UFV's Welding program is working with local farmers on a solution.
A key to successfully recycling the plastic is to find a way to move it efficiently to recycling centres and the end market.
Specially designed compactors can compress the plastic to make it easier to transport.
Agassiz resident and UFV Trades and Technology program technician Pierce Stoeckly, who has friends and relatives in the farming community, heard of the need for compactors and thought this would be a great challenge for UFV welding students. Instructor Matt Olafson agreed.
UFV's Research Office provided some seed funding and a group of welding students took on the challenge of designing a prototype as their capstone project.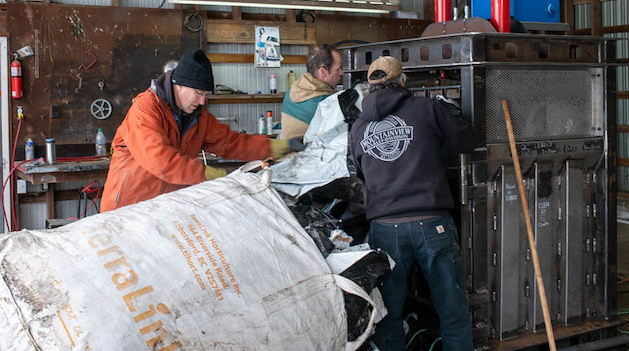 On a recent chilly morning, local farmers brought their plastic waste to Cordine Farms near Agassiz for the District of Kent's bi-annual farm plastic drop-off day.
And the students' custom-designed compactor roared into action. Large amounts of plastic were stuffed in the top of the compactor. When enough was collected, the switch was hit and the squishing commenced.
The end product?
Densely compacted rectangles of plastic waste, easily stackable and transportable in trucks.
And…
A real-life practical experience for UFV welding students.
And…
Farmers who can feel a bit better about the impact their activity has on our environment.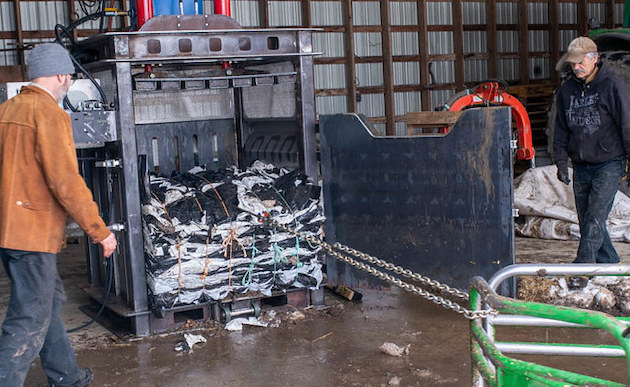 Local farmers and members of the Kent Agricultural Plastics Recycling Society (Kent Ag Plastics), including Gerald Struys, Dave Hastie, Holger Schwichtenberg, Duane Post and Jim Grieshaber-Otto, were on hand to help test out the compactor.
"It's such a boost knowing that our local university is stepping up to help us address this environmental issue in real life. It's great that Pierce Stoeckly was able to help connect us," said Grieshaber-Otto. "UFV instructors and students came up with a super, practical design for this prototype and, using locally donated steel, UFV students did just a fantastic job building it. With a few minor tweaks and a coat of bright green paint, it'll provide years of solid service in Agassiz. We can't thank you enough!"
Once the prototype compactor is tested further and adjusted, local manufacturer Tycrop will sandblast it, UFV autobody finishing students will paint it, and it will be available in the District of Kent for farmers to continue using it.
Stoeckly says that the students enjoyed having a challenge with tangible results for their final project. Students who worked on the project include Ryan Holmes, Zac Williamson, Ian Hoggarth, Daniel Peters, Micah Toews, Liam Wiebe, Austin Knapp, Megan McLellan, and Dotty Davies.
"It was a complex project for them. They had to think about how to process the material, what cuts to make, and how to fit the metal together. The fact that it fulfills a real community need makes it that much more interesting."
The end goal is for every dairy farmer to have a compactor so they can compress their plastic waste regularly on site, rather than collect it for transport to a common compactor.
The project was completed in partnership with Cleanfarms Canada, UFV Research, and Kent Agricultural Plastics Recycling.