Writer-in-Residence Rob Taylor on poetry, publishing, and accepting rejection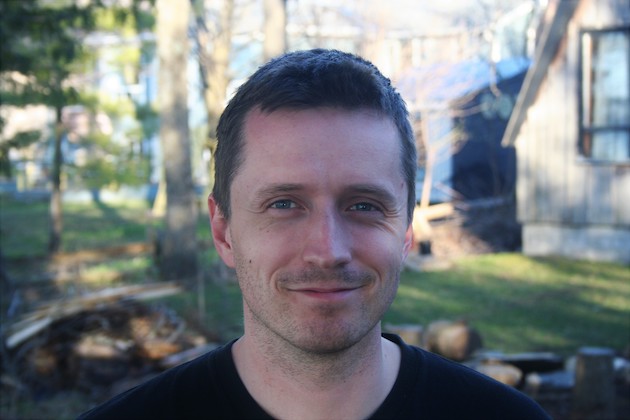 UFV's Writer-in-Residence is hosting a poetry reading on Valentine's Day, but don't expect a bunch of sappy love verses.
Rob Taylor concedes that in honour of the day, he will read "exactly one love poem (no more, no less)."
You can catch Taylor and other poets reading their work on Tuesday, Feb 14 in Room B121 on the Abbotsford campus at 10 am.
Taylor is a well established poet who has been published extensively but also had his poems and stories rejected more than 1,600 times.
"I know how hard it can be to get published, and I'm happy to share what I've learned with you," he notes on his website.
Taylor is the author of four poetry collections: Strangers (Biblioasis, 2021), Oh Not So Great: Poems from the Depression Project (Leaf Press, 2017), The News (Gaspereau Press, 2016) and The Other Side of Ourselves (Cormorant Books, 2011). In 2017 The News was shortlisted for the Dorothy Livesay Poetry Prize and in 2010 the manuscript for The Other Side of Ourselves won the Alfred G. Bailey Prize. Rob is also the editor of What the Poets are Doing: Canadian Poets in Conversation (Nightwood Editions, 2018) and the guest editor of Best Canadian Poetry 2019 (Biblioasis, 2019). In addition to his books, Rob is the author of six poetry chapbooks, most recently The Green Waves: Poems from Roblin Lake (845 Press, 2019) and Łazienki Park (The Alfred Gustav Press, 2017).
Taylor's individual poems, short stories, essays, and interviews have appeared in more than sixty journals and magazines, including The Walrus, Brick, The Fiddlehead, The Malahat Review, and the Literary Review of Canada. In 2014 he was named one of the inaugural writers-in-residence at the Al Purdy A-frame, and in 2015 he received a City of Vancouver Mayor's Arts Award for the Literary Arts.
Taylor has been editing online and print poetry publications for 15 years and holds an MFA in Creative Writing from the University of British Columbia. He is a past poetry editor at PRISM international, edited What the Poets are Doing: Canadian Poets in Conversation, and guest-edited Best Canadian Poetry 2019. He has served on the juries of numerous poetry competitions, including the Dorothy Livesay Poetry Prize, the Archibald Lampman Award, and BC's Poetry in Transit program. I have taught and edited manuscripts at UBC, the University of the Fraser Valley, and Simon Fraser University.
Taylor answered a few questions for the UFV community in advance of his readings.
Not too many people can put "poet" as their job description. How have you carved a niche and created a career for yourself centered on writing, and poetry in particular?
Sheer force of will. Ha! As I've said to many students, talent is handy, but passion and determination take you further. I have a deep love of literature, both the reading and writing of it, and I've refused to say "I quit" when rejection slips have arrived in my inbox. (If you come by my office, I can show you my spreadsheet of 1,600+ poem and story rejections, alongside a couple hundred acceptances).
Just as importantly, I love building reading and writing communities, be that on campus, or at a reading series, or in the pages of a magazine or anthology. One lovely aspect of a life in writing is that there is always space for more (more community organizations, more events, more books…) if you're willing to do the work to make that space, both for yourself and for others. The poet Kwame Dawes once said, of building community for other poets, "If you build a home, you can live in that home." Poetry has been a home for me to both build and live in for 20 years now.
What drew you to writing poetry?
Oh, I don't think most poets know what got them started, not exactly. You find yourself compelled — you read a poem, then another and another, and your world opens up. Then, just as mysteriously, you find yourself writing them. Soon it's too late to turn back!
In hindsight, I can point to a number of sources for my interest in poetry, most notably my desire to forge a secular version of the path my father walked as a United Church minister. But in reality poetry runs deeper than that for me: poems are the closest I can get to manifesting my thinking on the page. Poems, in their rhythms, repetitions, and associative leaps, mirror the way my brain makes sense of the world. In reading and writing them, I feel intimately connected to my fellow (living, breathing, thinking) human beings. I've come to value that so much, especially in recent years, when face-to-face interactions have become more limited, and more fraught.
How are you enjoying your stint as W-I-R at UFV? Have you had the chance to meet with students? What are you seeing reflected in the writing of people from the Fraser Valley?
I'm loving it! My greatest joy is speaking one-on-one with students about their writing, and what a life in writing might look like for them. My consultations started last week, and I've been seeing students steadily since then. There is a whole lot of talent here on campus and, more importantly, a ton of passion and determination.
When are you available to meet with student writers?
I'm on campus two days a week until the end of March. I have a calendar set up that shows the days I'm on campus, along with information on how to book a meeting with me, here: https://docs.google.com/document/d/11ARejaY_FA-vTpNJ4bq7rcAKHf8pIXNfjfqgaRgX37U/edit?pli=1
Who will be joining you to read at the Feb 14 event?
My former students! I had the pleasure of teaching two poetry classes at UFV in 2016-17. I've loved keeping in touch with my students, some of whom have gone on to publish their own work. One former student who will be joining me, Bradley Peters, had his first book of poems, Sonnets from a Cell, accepted for Fall 2023 publication from one of Canada's most prestigious poetry publishers, Brick Books! So I'm hoping the event will be a celebration not just of the residency and my writing, but of all the amazing work coming out of UFV!
Do you have other events planned? If so, what are details?
Yes, I will be hosting another reading on campus on March 23 (time and room number TBD). For that event I'm bringing in three writers from around the province for a larger celebration of BC literature. The writers are Tolu Oloruntoba, who recently won the Griffin Poetry Prize; Délani Valin, a Nanaimo-based poet whose debut poetry collection came out last fall; and Dominique Bernier-Cormier, whose second book is about to be published!
We're also organizing a public writing workshop for the beginning of March. More details to come on that one!