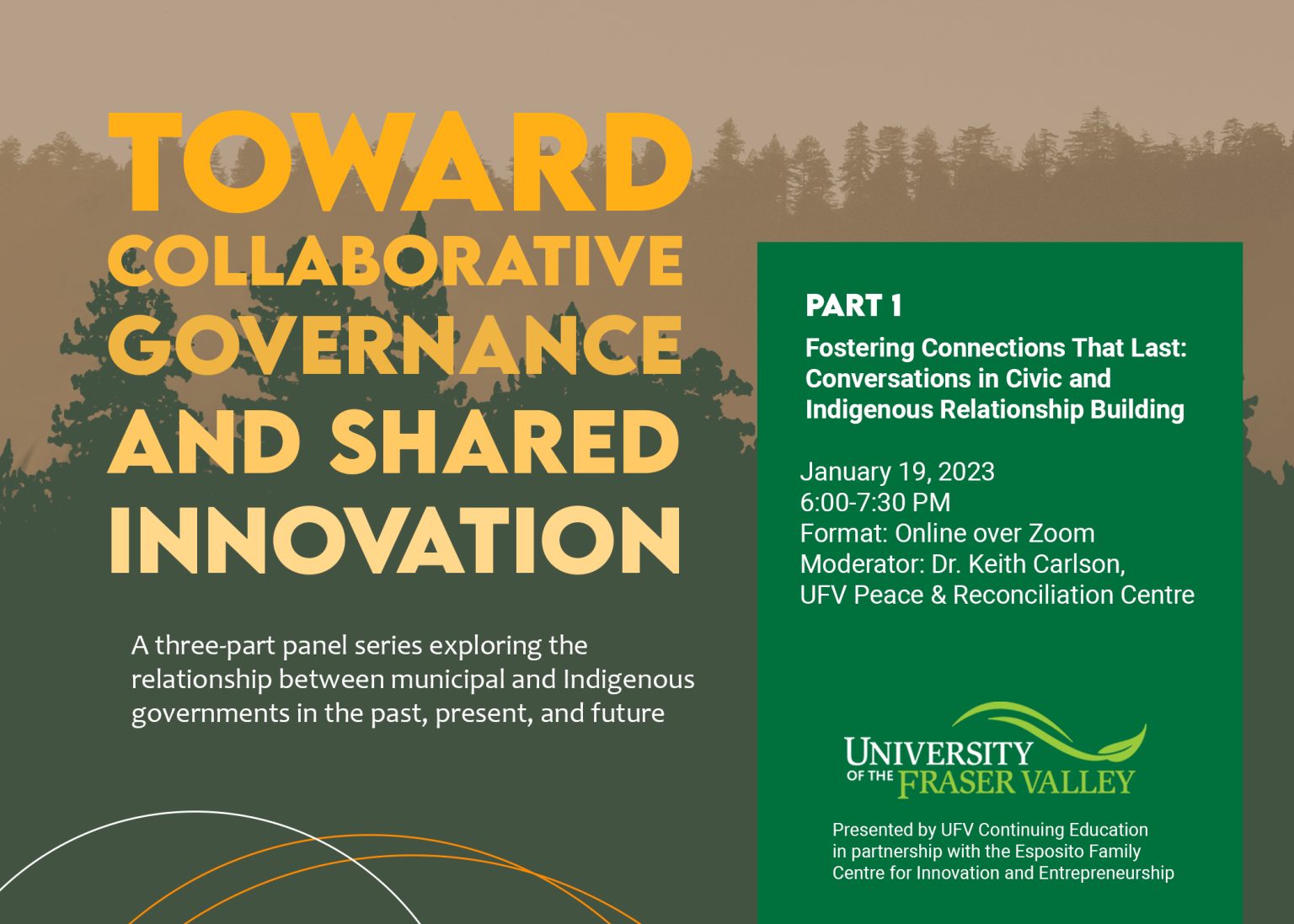 Conscientious municipal employees know that consulting with Indigenous neighbours or stakeholders is a key part of any planning process.
The University of the Fraser Valley recognizes the importance of such consultation and is offering a panel discussion that will explore strengthening civic-Indigenous relationships.
Fostering Connections That Last: Conversations in Civic and Indigenous Relationship Building will be presented via Zoom on Thursday, Jan 19, from 6 to 7:30 pm.
Admission is free and this event will be of particular interest to municipal staff and administrators, First Nations representatives, and others working in partnership with municipal governments. Get your free ticket today by going to bit.ly/3j0dw8W.
The session will feature panelists from local First Nations and municipal leaders who will share their perspective on the roots and evolution of municipal relationships with Indigenous governments. From conversations about current relationships to historical and present-day barriers and emerging opportunities, this event will explore the past, the present, and the future of Indigenous and local government relationships.
Panelists include:
Heidi Martin, Development Coordinator with Aquilini Indigenous Developments and Adjunct Professor at UBC's Sauder School of Business
Ken Christian, former Mayor of Kamloops
Jason Campbell, Executive Director, Seabird Island Band
Chris Gruenwald, Director of Forestry, City of Mission.
The event will be moderated by Dr. Keith Carlson, Director of UFV's Peace and Reconciliation Centre, and is co-presented by UFV Continuing Education's Civic Governance and Innovation Certificate program and Esposito Family Centre for Innovation & Entrepreneurship.
This session is the first in a planned three-part series of online panel discussions titled  Towards Collaborative Governance and Shared Innovation, with the other two sessions happening in late winter and early spring 2023.
UFV Continuing Education also recently launched a Civic Governance and Innovation certificate program. For more information on this innovative program, please visit: https://www.ufv.ca/continuing-education/programs/civic-governance-and-innovation/.
If you have any questions, contact continuingeducation@ufv.ca.