As the hometown Abbotsford Canucks battled the San Diego Gulls tooth and nail below on the ice recently, a familiar face within UFV sports circles roamed the arena with a camera in her hand and an employee credential dangling off her neck.
Throughout the game, Sarah Parker deftly captured every slap shot and fan interaction, maneuvering back and forth between various shooting locations. In between periods, she vanished to the media room to edit pictures and short videos which were then posted on the team's social media platforms. Her best photograph came during the overtime shootout: a spectacular, bird's-eye shot of Canucks centre Tristen Nielsen attempting to score around the Gulls' goalie.
Although Nielsen missed and the Canucks lost, Parker, a fifth-year UFV Bachelor of Media Arts student and former UFV soccer player, is thriving in a practicum that combines the two things she loves the most: sports and photography.
"Working in professional hockey is very high pace, it's go, go, go, like 100 miles an hour," says Parker, who is currently a media content creator for Canucks Sports and Entertainment. "I feed off that energy and that's when I'm at my best."
"It was clear from every interaction that Sarah was passionate about soccer and places a high value on her commitment to the team," says Paula Funk, a UFV academic advisor for the School of Creative Arts programs who has been working with Parker to find relevant work-experience positions since 2019.
For now, this is Parker's team. It is not a European pro club like she figured she would be playing for if it weren't for a major knee injury and a string of bad luck, but the practicum has provided a refreshed career path that she is embracing.
Five years ago, Parker was a five-sport standout athlete at Lord Tweedsmuir Secondary School in Cloverdale. Three years ago, Parker was a contributing role player for a 2019 Cascades soccer team that went 5-6-5. She lost a season in 2020, with the pandemic putting a hold on university sports.
A year-and-a-half ago, the go-getting striker landed a semi-pro summer soccer gig in Peoria, Illinois. But two weeks before the playoffs, she suddenly suffered a freak knee injury on a routine play.
"It was devastating at first, but at the same time, my mindset was that I've had my knee injured before, so it wasn't a big deal," says Parker, referring to a minor meniscal tear to her knee three years ago. "The doctors said that I was going to need an MRI and that is when we discovered it was actually an ACL tear."
Without medical insurance in the United States, Parker returned to Canada to rehab her knee and resume her UFV studies. And without soccer, she pivoted back to her second passion.
Athletics is in Parker's lineage. Her father Baron is a former NHL linesman and her mother Sandy played recreational soccer. When she wasn't on the pitch racking up goals or dominating every other sport, Parker was snapping pictures on her Canon DSLR camera or recording vlogs from her iPod. She valued memories and capturing moments — both the monumental and mundane for Snapchat or friend-group chats.
She entered UFV in the fall of 2017 as a criminology and criminal justice major but quickly switched in her second year after discovering the media arts program.
"I didn't even know that was an option until I found that UFV had it," says Parker, who took photography and graphic design courses early on. "I love how this program can branch off into so many pathways, whether it's video games, or behind the camera stuff, or even in front of the camera."
Inevitably, her art collided with sports. Parker scored a dream gig in the summer of 2021 through a friend in her soccer network familiar with her digital media skills. Her job? Creating motivational and scouting videos for the Canadian Women's Olympic soccer team that won gold in at the Tokyo Olympics.
"It was such a huge and unexpected opportunity," she says of the Olympics experience (she worked remotely from home). Parker was brought into the Canada Soccer fold by Jasmine Mander, a performance coach for Canada Soccer. "I don't know anybody that would say no to that, and I was thrilled that the video content contributed to the team's preparation and success."
When Parker's athletic career was put on hold last year, Funk conceptualized another way that she could stay involved in pro sports. She, along with UFV Assistant professor in Media Arts, William Maher, connected her with a practicum with the neighbouring Abbotsford Canucks. Parker started in September.
"Rehabilitation is never easy — it is innately linked to the disappointment of injury alongside the hope of recovery," says Funk. "Sarah's rehabilitation had the magical element of a practicum in a field she loved using emergent skills she hopes to foster in her career.
"There was tremendous generative energy in this, and I believe the practicum served Sarah well while she redirected her energies away from direct athletic activity."
On top of working on all game nights, Parker is in the Canucks' office two days a week. On any given day she will brainstorm content for both the upcoming games, as well as off-the-ice campaigns. But most of her time is spent at the computer, either editing photos and videos, or helping populate the social media calendar with content. With the Canucks, she is happiest when she is on her feet, zigzagging around the Abbotsford Centre taking photos.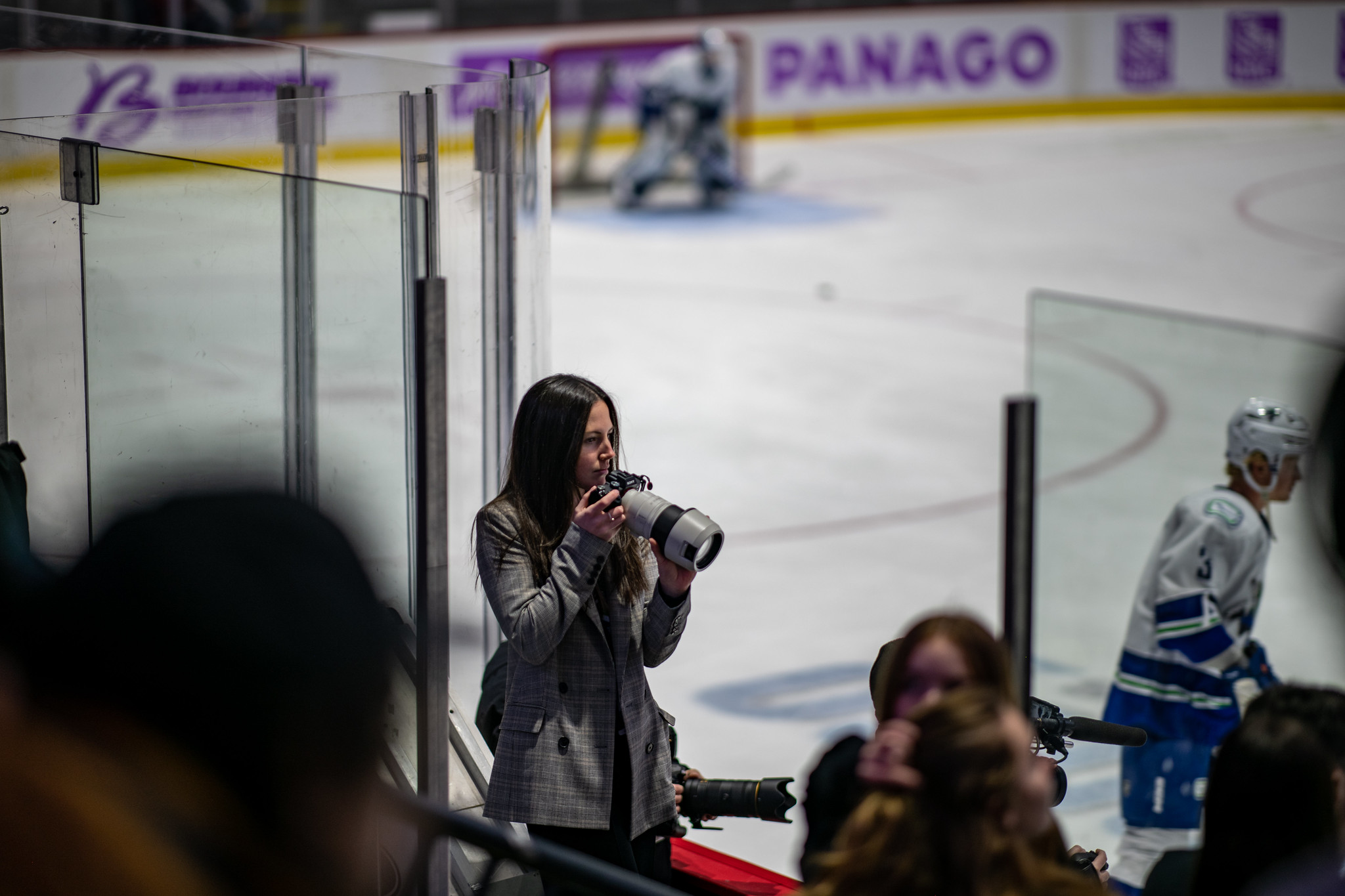 "My mindset is to make players look good, I'm here to capture their moments," says Parker. "That's also kind of how I was as a player too — it is all about the team."
The hands-on work experience practicums she has gained with the Abbotsford Canucks and Canada Soccer have helped Parker envision a future career in sports media or marketing. But as her knee gets closer to full strength, the itch to return to the pitch gets stronger.
"It's kind of been a waiting game on my knee," Parker says. "I just had a message this morning from a team down in Texas saying they are taking a team over to Europe and asking if I wanted to go."
Parker doesn't know the answer to that question yet. She is conflicted about what she will do after the practicum and graduation from UFV in spring 2023. Maybe play pro sports; maybe work in sports media. No matter what she chooses, she has learned through her injury and practicum that it is just good to have options.
Sarah Parker in action as a photographer at a recent Abbotsford Canucks game: